News Release
CDB Forecasts Caribbean Economic Growth of 5.7% in 2023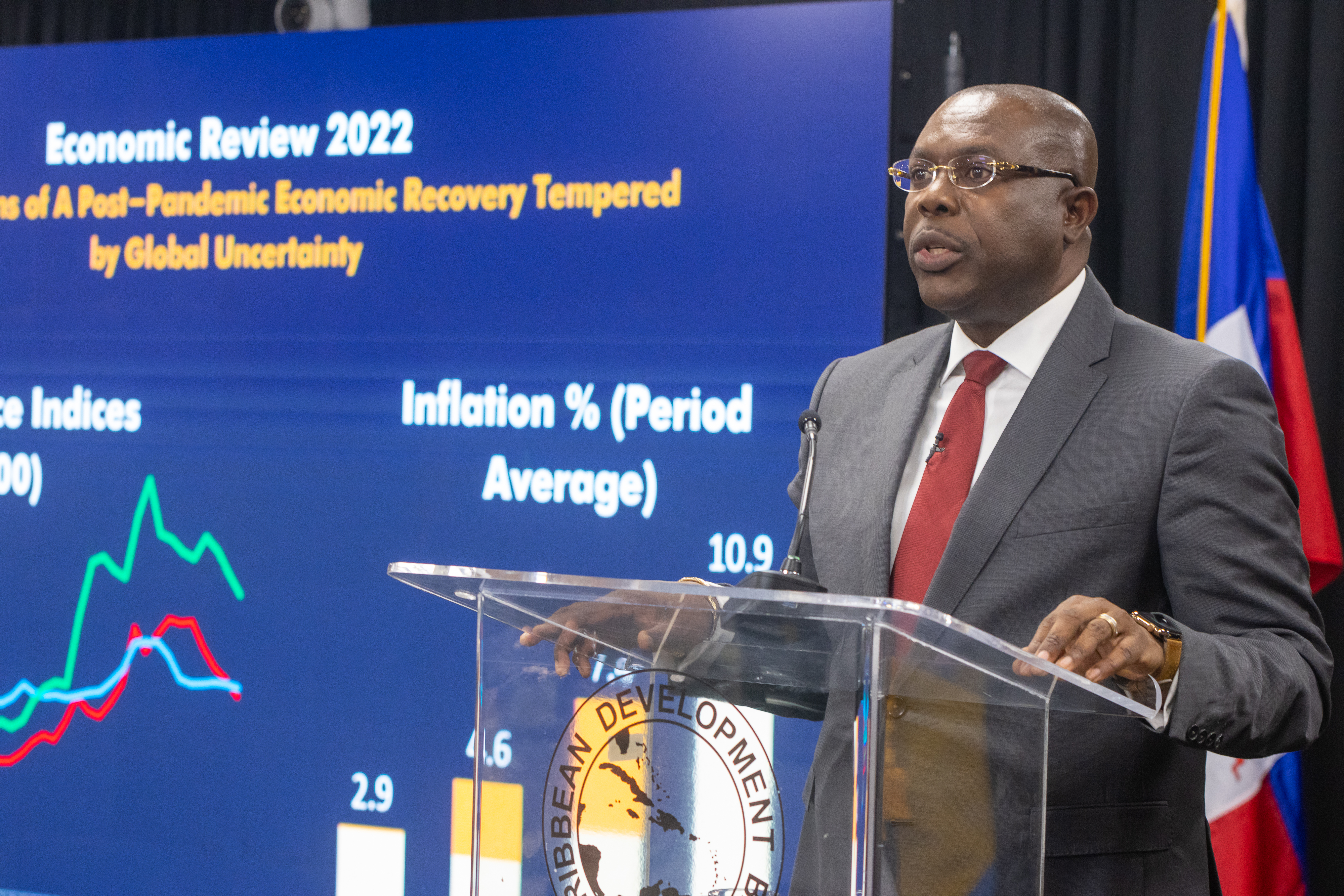 The Caribbean Development Bank's (CDB) Vice President (Operations), Mr Isaac Solomon says regional growth of 5.7 % is forecast for 2023. This is based on the continued revival of tourism arrivals and investments in the energy sector. The performance is, however, subject to some risks associated with Advanced Economies which are on track to register lower growth relative to 2022. "Looking ahead," he added "for 2023 we project that, despite facing multiple challenges, Borrowing Member Countries' (BMCs) economic performance will continue to improve over the medium-term. While cautiously optimistic about the near-term outlook and recognising the uncertainty regarding the war in Ukraine, it is difficult to estimate growth with a large degree of certainty."
Examining the economic performance of the Bank's BMCs in 2022, at the CDB's Annual News Conference on January 18, in Barbados, Mr Solomon indicated that increased economic activity spurred strong regional economic growth that averaged 10.3% largely because of increased energy production in Guyana and Trinidad and Tobago, higher international oil prices in commodity-exporting countries and economic growth of 4.6% in tourism-dependent countries. This performance, he stated, helped buoy increased Government revenues and improved fiscal positions.
According to the Bank Executive, the challenges associated with past economic performance and global conditions place the region at a critical juncture, adding that the impact of protracted shocks compounded the Region's socio-economic difficulties. CDB is lending much needed support to its 19 BMCs through its diverse portfolio of loans and grants. The Bank, in 2022, disbursed USD 292.5 million across the region and approved 15% more grants and loans during that time totaling USD 158.1 million. There are currently over 65 CDB financed projects under implementation regionally. There are focused on youth, agriculture, water, education, infrastructure, renewable energy, gender, trade, transportation, climate change, MSME development and the creative sector among others.
Beyond CDB's direct financial support to weather the period ahead, the Vice President also shared some recommendations which could be implemented to aid in growth and development and increase resilience of Caribbean economies and societies. This includes supporting comprehensive debt management strategies, public financial management, and promoting access to adequate and affordable financing; promoting gender equality, women's reintegration into the work force and the prevention of discrimination; promoting a private sector ecosystem that has innovation, diversification, financial inclusion of the most vulnerable; key priority actions in strengthening governance capacity to deliver through implementation of cross-sectoral policies and programmes, and protecting the poorest as well as revolutionising digital infrastructure and technical proficiency and mainstreaming environmental sustainability and climate change.
The Bank, he emphasised, is a willing partner seeking new avenues and opportunities to fund the region's growth and development. While more capital is required, much more work also lies ahead.