News
CDB hands over gender socialisation curriculum and training kit to UWI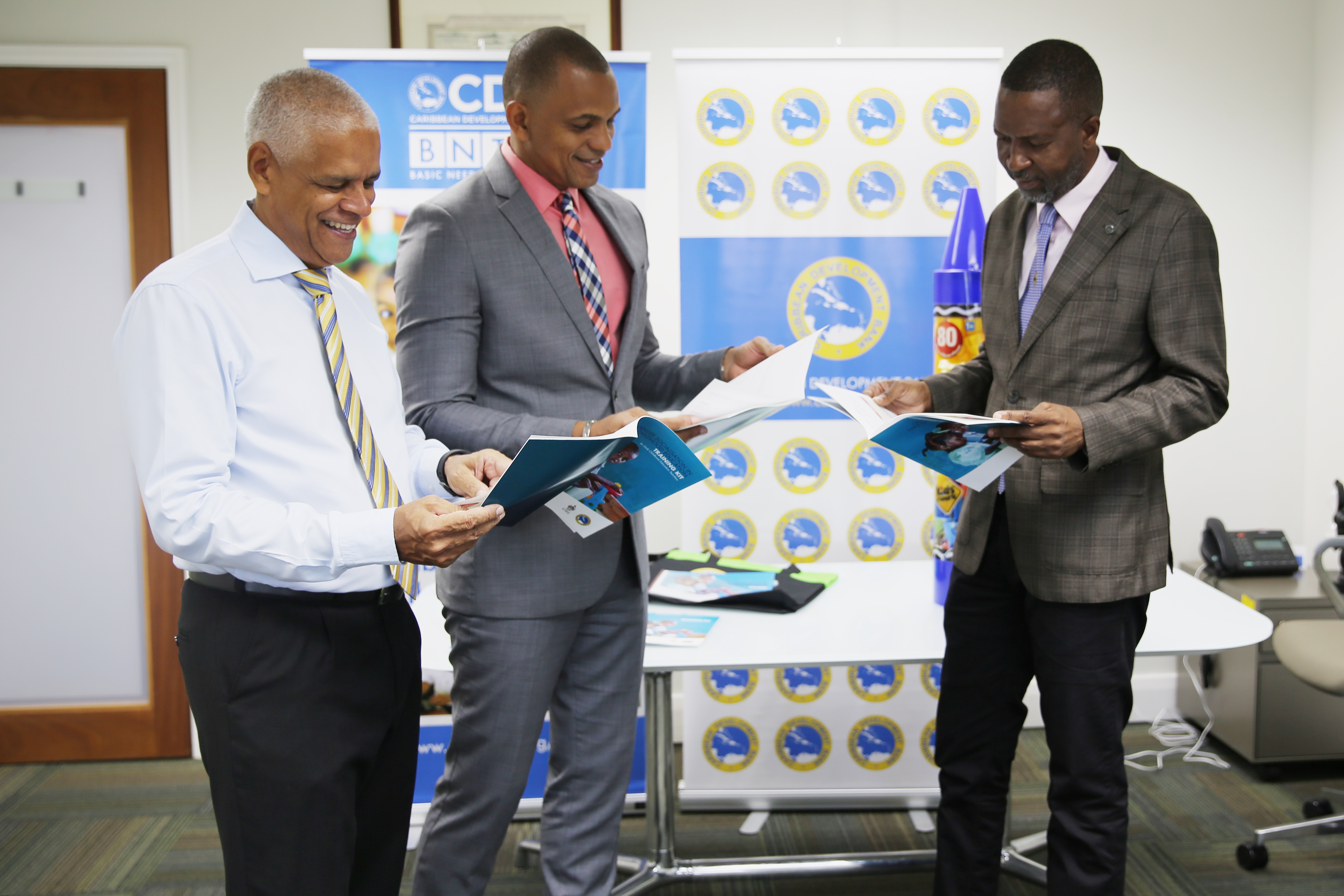 Successfully addressing gender inequalities in the Region will require incorporating gender strategies in the educational system, especially at the early childhood level. Research has shown that children start to develop and exhibit stereotypical behaviour and perceptions from as early as five years old. These are not biological, but rather, socially constructed, and form the foundation for attitudes and behaviors throughout later life.
To address the issue, in 2015, the Caribbean Development Bank (CDB), partnered with the University of the West Indies (UWI) School of Education, Cave Hill to develop the curriculum for a module entitled Introduction to Gender Socialization in Early Childhood Education.
On Tuesday, September 25, 2018, Daniel Best, Director of Projects at CDB, officially handed over the curriculum to Professor Joel Warrican, Director, School of Education, UWI, Cave Hill.
"Gender equality is a cross-cutting theme across all of CDB's work. We are particularly pleased to have been part of this project, as we recognize that gender can impact teaching and learning outcomes in the classroom. It is our hope that the curriculum, along with accompanying training kit, will create awareness, knowledge, skills and a behavioural shift among early childhood practitioners when it comes to gender socialisation among our young citizens," said Best.
A 2015 survey of early childhood development practitioners in the Eastern Caribbean revealed that while 43 percent had obtained high school level education, only 13 percent have certification in early childhood development, revealing a need for targeted gender training.
The module introduces practitioners to gender issues in the classroom and provides guidelines on how to create gender-sensitive learning environments and instructional material. A complementary training kit contains practical tools and resources. The module and training kit have been incorporated as part of UWI Cave Hill's ongoing Bachelor of Education Programme in Early Childhood Education and Care.
The development of the curriculum and training kit was done through through CDB's Basic Needs Trust Fund Programme (BNTF). The curriculum was piloted in a number of public and private daycare centres, preschools and primary grades across the Caribbean, with a focus on facilities supported by the BNTF, CDB's flagship poverty reduction programme.
Additionally, UWI will oversee the adoption of the curriculum within relevant teacher education programmes in the Eastern Caribbean at the certificate, undergraduate and graduate levels. The training kit will also be distributed across the Region, to early childhood development practitioners and education specialists.