News
CDB launches project to improve disaster risk management and climate resilience in Ile-à-Vache, Haiti
On Friday March 3, 2018, the Caribbean Development Bank (CDB) and the Government of Haiti launched a project to improve climate resilience and disaster risk management on Ile-à-Vache, an island off the country's southern peninsula. The Building Capacity for Disaster Risk Management and Climate Resilience Project is being funded through a CDB grant of USD5.5 million (mn),  which includes a contribution of USD 896,000, from resources provided to CDB under the African Caribbean Pacific-European Union-CDB-Natural Disaster Risk Management in CARIFORUM Countries.
The island of Ile-à-Vache has five main villages and a population of approximately15,000, and is particularly vulnerable to the impacts of tropical storms and hurricanes. Speaking at the launch, Monica La Bennett, Vice-President (Operations), CDB, noted that the project has the potential to transform the lives of the people of Ile-à-Vache.
"Recurring floods and storms that affect the island, damage the livelihoods of persons who depend on fishing and agriculture. This project aims to increase the resilience of Ile-à-Vache residents to natural hazards and impacts caused by climate change. This is key to social and economic development, and the systematic reduction of poverty. It is part of broader efforts by the Government of Haiti to make investments that increase the resilience of all the people of Haiti and improve their life chances," said La Bennett.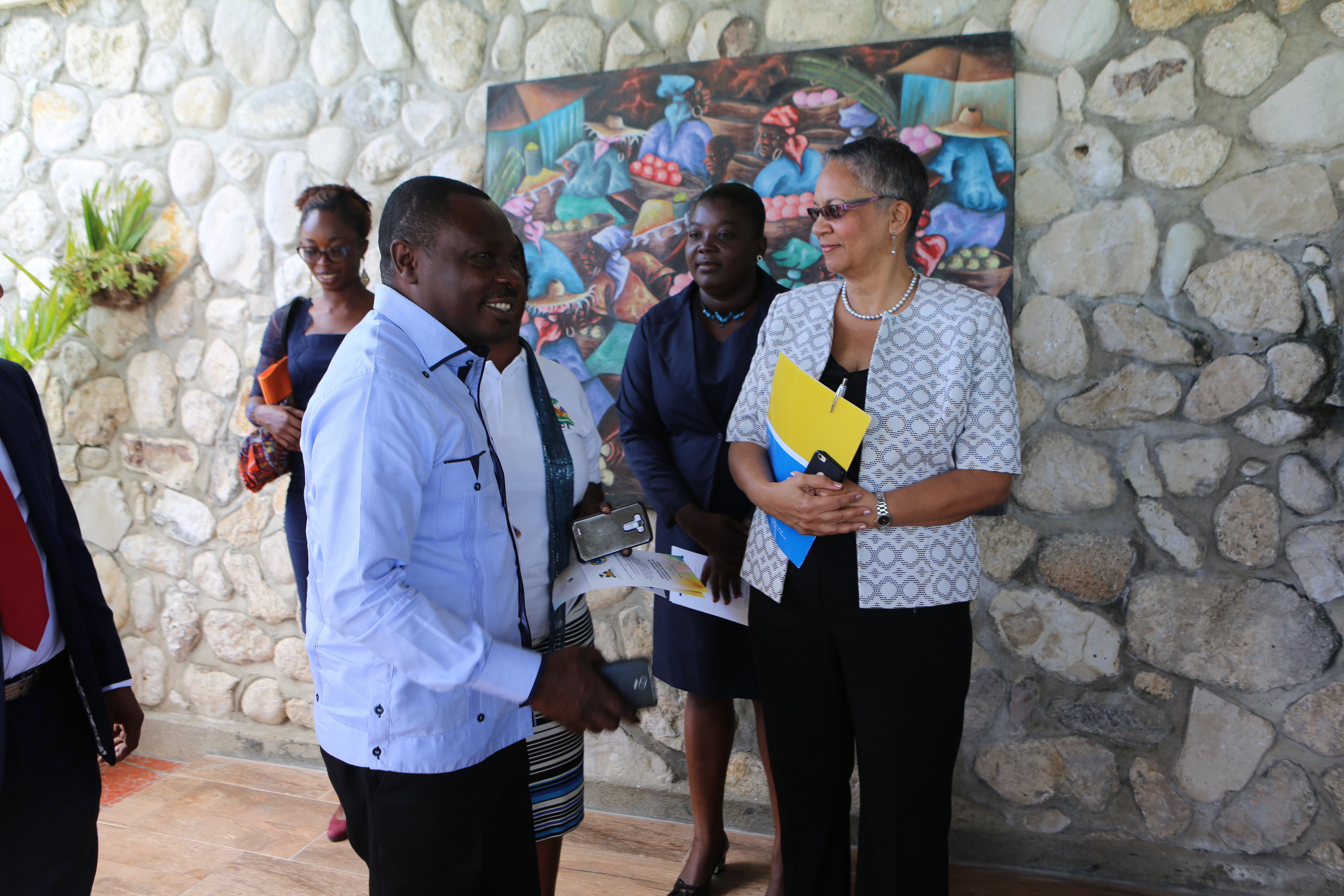 Minister of Environment for Haiti, H.E. Pierre Simon Georges, noted that the project will also directly benefit the population through multi-sectoral interventions. He said that the Government of Haiti was keen to ensure that the project is implemented in the shortest possible time.
He noted that Ile-à-Vache, with a population of 15,000 people, is particularly vulnerable to climate change. The Minister added that, within the framework of the project, the island will benefit from investments in in electricity, potable water and fisheries management, which must all be strengthened to increase resilience to climate change.  
Key project components include:
formulation of a disaster risk management-climate change adaptation plan; a climate-resilient spatial plan; an early warning system; and a public education and awareness programme;
enhancing capacity to develop and implement a sustainable fisheries and coastal ecosystem management programme, including planning for viable livelihoods options and employment opportunities for the residents of Ile-à-Vache;
improvement of access to potable water, by installing water purification equipment at community water supply points in Madame Bernard and Baleraze and monitoring of water quality and availability;
increased access to efficient, affordable electricity for households, businesses and public administrative services, through the installation of a mini-grid system in Madame Bernard.