News Release
CDB strengthens ties with INMED on food security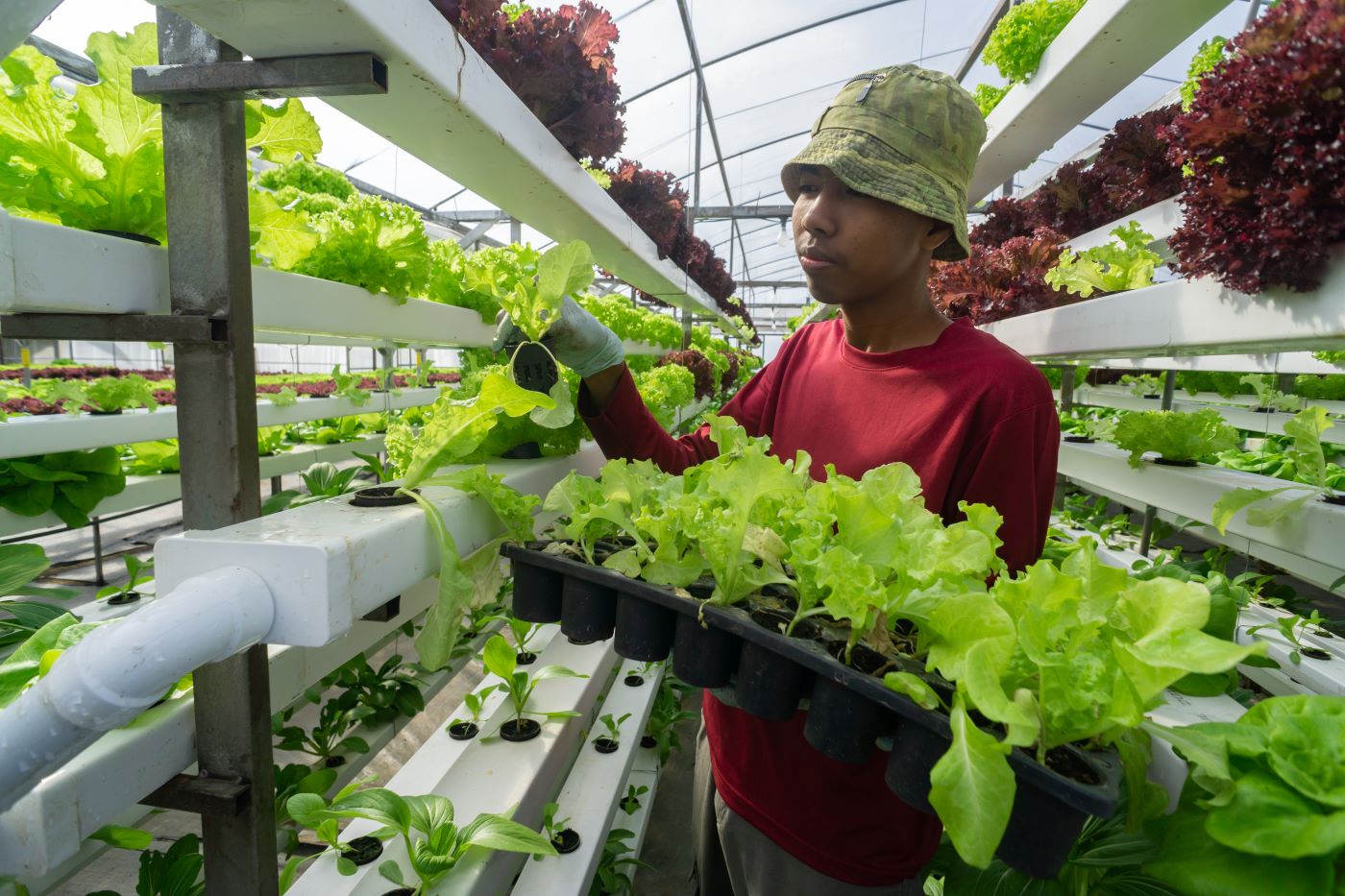 INMED is sowing seeds in the Caribbean to grow food security, boost entrepreneurship, and build sustainable livelihoods in the face of worsening climate change.
Established in 1986, the international non-profit humanitarian organisation INMED Partnerships for Children, and its 20-year-old sister entity INMED Caribbean, are pursuing this mission in partnership with the Caribbean Development Bank's (CDB) Micro Small & Medium Enterprises (MSME) Unit.
Having started its relationship with INMED in Jamaica in 2018, CDB is now expanding the already productive collaboration, providing USD150,000 in funding for the organisation to enhance the capacity of small-scale farmers to implement climate-adaptive aquaponics farming and to strengthen MSMEs.
The Increasing Access to Climate-Smart Agriculture in the Caribbean Through INMED Aquaponics® project will enhance the ability of aquaponics enterprises and increase climate resilience in Antigua and Barbuda, Barbados, Grenada, Saint Lucia and The Bahamas, using INMED Aquaponics.
Kristin Callahan, Chief Operating Officer (COO) of INMED Partnerships for Children explained the initiative was aimed at "providing smallholder farmers with access to climate-adaptive aquaponics technology, education, training and markets".
The INMED representative explained that aquaponics was "a climate-adaptive agriculture technique which combines fish farming with hydroponics (soilless crop production) in a closed system that produces year-round harvests at a rate roughly ten times higher than traditional farming".
Aquaponics consumes up to 90 percent less water, is scalable to any urban or rural space, and is resilient to destructive climate change events. It also uses no chemical pesticides or fertilisers.
INMED has developed "a simplified version of aquaponics that uses locally available materials, is easy to operate and maintain and can withstand extreme weather events", and noted that smallholder farmers, women, youth and people with disabilities on three continents are running INMED Aquaponics® systems and prospering.
Having worked in Jamaica since 2002 to improve the health, food security and income-generation opportunities of the nation's most vulnerable people through climate-smart agriculture, skills development and opportunities for self-reliance, INMED is now branching out to the wider region with CDB's assistance.
Callahan said the overall goal was to "increase food security, strengthen entrepreneurship, and build sustainable livelihoods in the face of climate change".
"There are several beneficiary groups in several island nations such as Antigua, Barbados, Grenada, Saint Lucia, Saint Vincent and The Bahamas with whom we are engaging to provide training and strengthen capacity in aquaponics farming," she shared.
"Hundreds of farmers, youth, and persons with disabilities have benefitted from the programme in Jamaica since INMED introduced its aquaponics technology in 2011, and now with CDB we are expanding to other Caribbean countries starting this year."
INMED's work in the region would be important under normal circumstances, but the worrying impact that climate change is having on Caribbean nations, many of them CDB Borrowing Member Countries, has elevated its significance and value.
Callahan noted that as climate change and global disruptions drive marginalised populations deeper into hunger, poverty and climate migration, INMED Aquaponics® provides the value chain of support for small producers to achieve self-reliance as well as skills development and education to thrive today and for generations to come.
INMED Caribbean has implemented more than two dozen aquaponics systems for farming cooperatives, communities and schools in Jamaica.
"The INMED Aquaponics Social Enterprise (ASE) programme model accelerates the deployment of a simplified and adaptable form of aquaponics to transition historically marginalised populations from subsistence to sustainable entrepreneurship," the organization's website stated.
INMED ASE provides holistic, value-chain support with training, technical assistance and market links to help smallholder farmers and emerging entrepreneurs launch sustainable agri-businesses.
Seeking to extend the programme's impact, INMED Caribbean has implemented numerous school-based aquaponics systems since 2011 to educate the next generation about climate resilience and adaptive agriculture technologies.
"Our long-running programmes in Jamaica have encouraged many young people to pursue careers in agriculture, and the aquaponics technology is an attractive alternative to traditional farming for food production," the non-profit reported.
Fortified by the financial backing of the CDB, INMED is prepared for willing participants in the five islands to reap their own benefits.
The COO underscored the importance and impact of the CDB's overall support, including its funding.
"We started working with CDB in Jamaica in 2018 and began planning for expansion activities in 2022. CDB support has been critical for INMED to provide training and technical assistance to smallholder farmers adopting aquaponics to produce food locally, generate income and adapt to climate change impacts," she outlined.