News
CDB supports training to help Dominicans build back better
Two hundred and thirty four Dominicans, 40 percent of them women, are now better equipped with the skills and knowledge they need to construct homes that can better withstand hurricanes.  They have completed the Rapid Training of Artisans programme, a learning experience that took place in November, which taught them how to efficiently and economically repair and rebuild roofs and timber-framed walls in accordance with building codes.
Stakeholders have called for further reviews of building practices, following the devastation left in the aftermath of Hurricane Maria.  The category five hurricane struck Dominica on September 21.
The Government of Dominica has plans to rebuild stronger than before, and is preparing to commence resilient reconstruction.
"This early intervention not only seeks to ensure that the rapid roofing repairs were done in conformity to best practice, especially within the non-formal sector, but to build awareness throughout local communities and the wider society," said Lucien Blackmoore, Permanent Secretary, Ministry of Housing, Dominica.
"We have a long and tedious journey ahead in rebuilding the beloved Nature Isle, and such an invaluable contribution can only auger well for the Building Back Better vision," he said.  "It is critical to cultivating the consciousness required for changing the mindset and adopting the desired attitude and behavior towards safer homes and resilient communities."
The Rapid Training of Artisans programme is funded through the Caribbean Technological Consultancy Services (CTCS) network of the Caribbean Development Bank (CDB). It has enabled the training of artisans, and follows a similar programme implemented with notable results in Grenada immediately after the 2004 passing of Hurricane Ivan.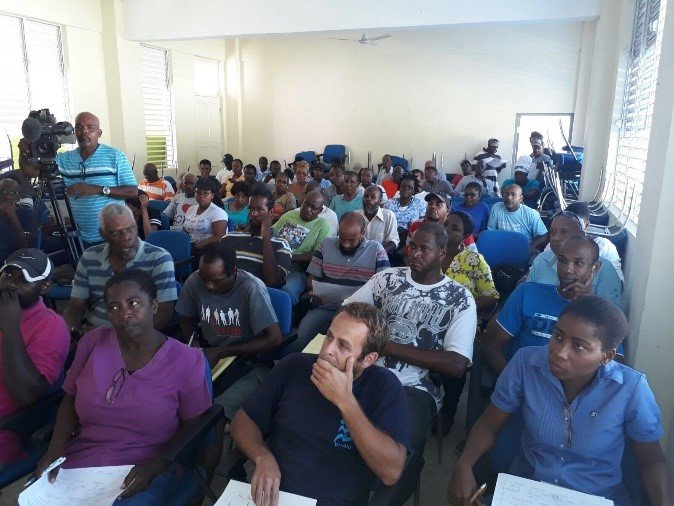 Artisans in each of Dominica's 10 parishes benefitted from the Rapid Training of Artisans programme, which is aligned to CDB's strategic objective of supporting inclusive growth and sustainable development.
"This training underscores CDB's continued efforts to assist our Borrowing Member Countries (BMCs) in building resilience by undertaking mitigation measures to minimise the economic and social impact of natural disasters, particularly hurricanes," said Darran Newman, Acting Division Chief, Technical Cooperation Division, CDB.
"Lessons learned will be applied to future interventions in other BMCs that have been affected by, and are vulnerable to, hurricanes," she said.