Events
Making Money Work for Better
Apr 21, 2023
With Caribbean countries needing more than USD100 billion to fund sustainable development projects, we will look at new ways to unlock capital and work with financial institutions to provide affordable financing for the region in the first seminar on the 53rd Annual Meeting events calendar.  
Tune in this Tuesday, April 25, 2023 at 10:00am (AST) for the seminar entitled, "Making Money Work for Better: Utilising International Financial Institutions' Reserve Finances for Sustainable Development".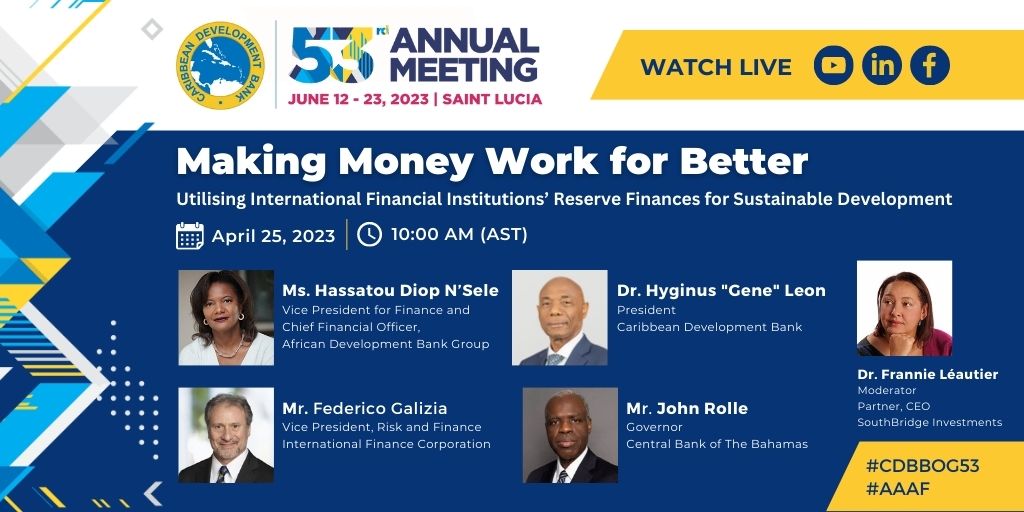 ​
Participants include:  
African Development Bank Group's Vice President for Finance and Chief Financial Officer, Ms. Hassatou Diop N'Sele  

SouthBridge Investments' Senior Partner and Chief Executive Officer, Dr. Frannie Léautier  

Caribbean Development Bank's President, Dr. Gene Leon   

International Finance Corporation's Vice President for Risk and Finance, Mr. Federico Galizia 

Central Bank of The Bahamas' Governor, Mr. John Rolle 
The discussion will explore:  
How CDB will work with other Multilateral Development Banks to provide affordable financing to support economic recovery and achieve sustainable development goals in the Caribbean.   

The practical tools, available resources and untapped funds which can be utilised to finance regional development.   

How CDB's new role as a prescribed holder of International Monetary Fund Special Drawings Rights, provides additional opportunities to pursue funding for sustainable development solutions for the Region. 

Access to "loss and damage" funding for vulnerable countries hit hard by climate disasters which was agreed to at COP 27.