News Release
Partnerships the Linchpin to Advance Caribbean's Development, say MDB Heads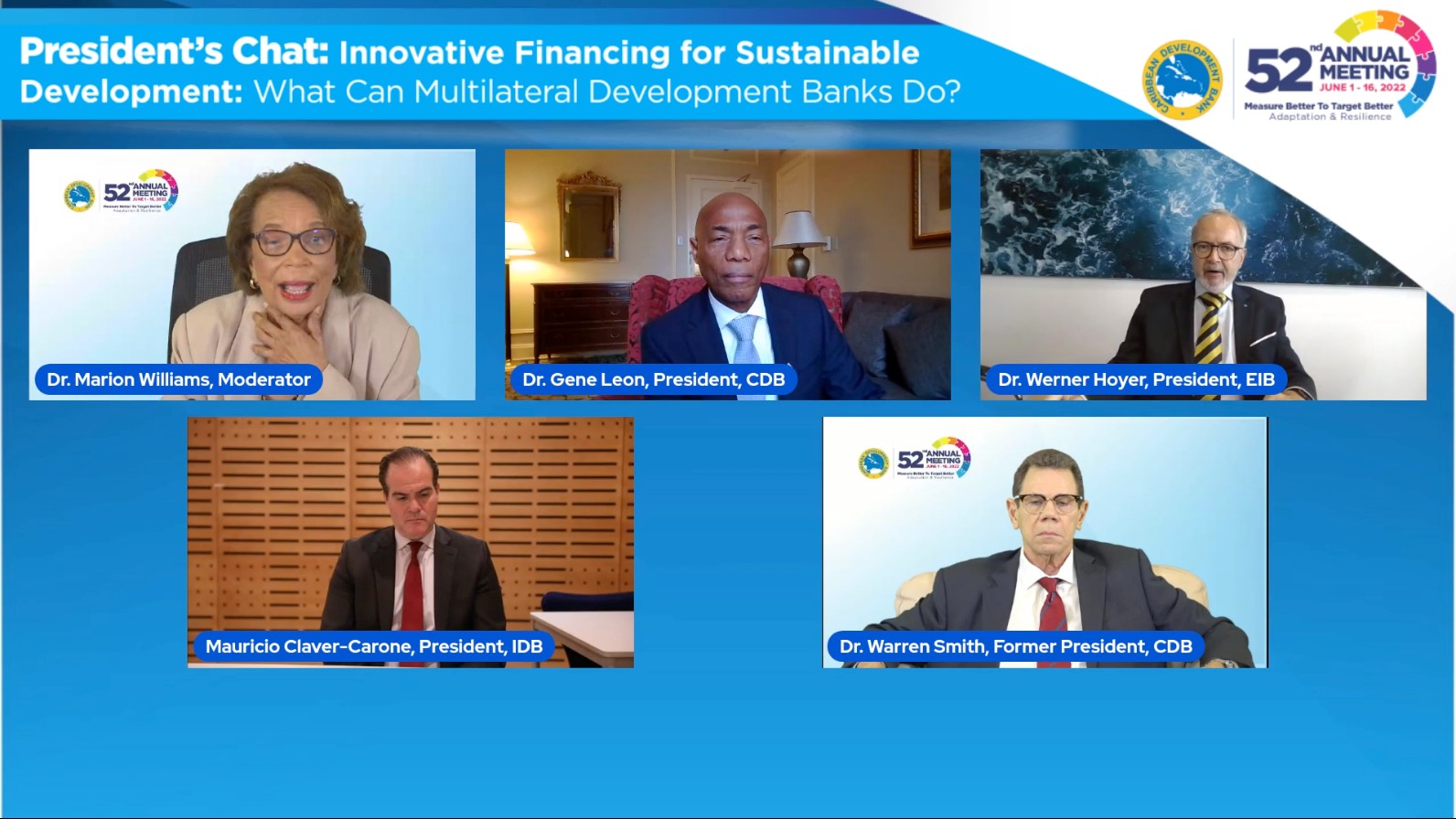 Partnerships, whether between multilateral development banks (MDBs), between MDBs and the private sector or even between these institutions and philanthropic entities – will be the linchpin for advancing development to better the lives of Caribbean people.
This point came up frequently on Thursday, June 9 when four current and former presidents of three MDBs engaged during the third edition of the Caribbean Development Bank's (CDB's) President's Chat, held as part of its ongoing 52nd Annual Meeting.
The virtual event featured current and former CDB Presidents Dr Gene Leon and Dr Warren Smith as well as President of the European Investment (EIB) Bank Dr Werner Hoyer and President of the Inter-American Development Bank (IADB) Mauricio Claver-Carone. The interactive session was moderated by Dr Marion Williams, the former Governor of Barbados' Central Bank and the country's former Permanent Representative in Geneva.
Dr Leon underscored that access to adequate and affordable finance is the "biggest challenge in the Region today" in trying to address "extremely huge" and competing needs so it can become "a place of choice where future generations want to live."
He noted:
"Given the magnitude of the problem that we are looking to fix, it's quite clear that we cannot do it by ourselves, and I say that to underline that the only way we can tackle the problem is through … strategic partnerships with the private sector, with investors, knowledge creators, institutions... Partnerships therefore become the foundation to allow us to do our key issue of meeting the purpose of a holistic development agenda with adequate and affordable finance.
If you have a trillion-dollar problem, you can't solve it with a million-dollar solution. And since we have a million dollars, but we need a trillion dollars, there is no way we can get there without crowding in and therefore is the need for partnerships – domestic and external, public, and private, institutional and even philanthropic as a means of taking us to the next point."
Retired President Dr Warren Smith highlighted how strategic partnering with other, larger MDBs had served CDB and its Borrowing Member Countries (BMCs) well during his tenure in being able to access concessional financing to explore climate action and sustainable energy initiatives.
"We also learned that accessing concessional resources is not easy. Each source of funding has its own set of rules and processes. It is iterative, time and resource consuming [especially] for a small institution like CDB with even smaller BMCS. Collaboration with larger and better resourced development agencies gives the region the access to the required resources," he stated. He pointed to successful collaborations with the European Union, and the United Kingdom's Department for International Development and the IADB on climate action and geothermal energy exploration projects.
EIB President Dr Werner Hoyer recommended partnering with private capital to advance development, highlighting his institution's own success in piloting green bonds.
"We invented, for instance, the first green bonds in 2007. At that time it was considered a lunatic idea. This lunatic idea is now enormously heavy [with] trillions of dollars in the market. Building on this, I think we can play a role, together with CDB, in catalysing investment also in the Caribbean… In addition, there is enormous potential for guarantees and other risk sharing instruments to incentivise more private capital. As a matter of fact, when I talk to asset holders, to investors, they are actively searching for opportunities to invest in these fields. I think the money is waiting on the streets to be picked up by us to catalyse it into productive investments," urged Dr Hoyer.
IADB President Claver-Carone advanced the discussion, highlighting increasing market interest in ESG (environment, social and governance) investing and the successful efforts the IADB was having to improve the area's ecosystem. Stating that "the recovery of Latin America and the Caribbean will be private sector led" he said success needed to start with "realising the scale of the opportunity."
"We're seeing the analytics. In 2021, I think it was 120 billion that was poured into sustainable investments. … Black Rock has done a survey - over 50 percent of investors are considering sustainable investment. That's critical. Investors are going to double that proportion of sustainable investments in their portfolios… it's [going to be] almost 40% by 2025. I mean, this is proving to generate higher returns and so we're seeing the estimates that the sustainable equity funds are outperforming traditional peer funds by almost five points. We have to expect that this is going to become an even greater force in the future," he outlined.