News
PROWESS powering MSME proposals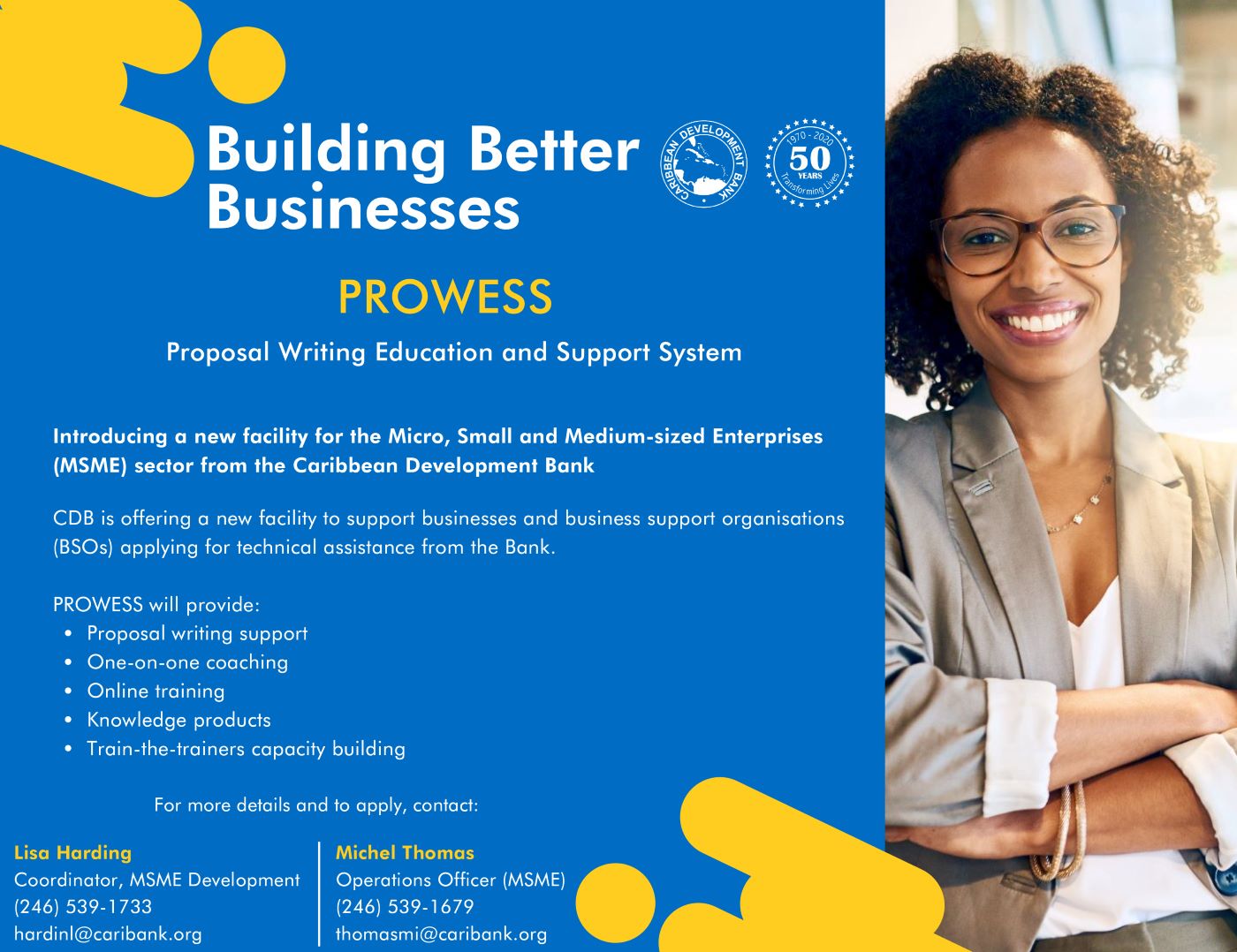 Proposal writing falls squarely into that bucket of functions which most business executives find to be the least appealing. However, for micro, small and medium-sized enterprises (MSMEs) whose operators often lack the expertise required to craft quality proposals to secure vital funding for their enterprises, the function is much more complicated.
The Caribbean Development Bank's MSME unit recognised the shortcomings in many of the proposals requesting grant funding which were coming to them. In response, the team met the challenge by providing direct technical assistance to businesses and Business Support Organisations (BSOs), to improve proposal writing .
CDB approved a grant of US $82, 688 from its Special Development Fund, to provide consultancy services to  build the capacity of   BSOs and firms in proposal writing.The facility, the Proposal Writing Education and Support System (PROWESS)  was rolled out in late 2020 and comprises one-on-one online coaching and training, access to knowledge products and capacity building through train-the-trainers workshops.
NUDGE Caribbean, a Trinidad and Tobago-based social enterprise BSO, managed by  Anya Ayoung-Chee and Julia Avey, with support from the Massy Group, was a beneficiary of the facility. Ayoung-Chee, a design strategist and social entrepreneur acknowledged that proposal writing represents a "challenging process for an early stage venture".
She stressed that though it can be a demanding process, a quality proposal can make or break an entrepreneur's success at securing financing.
With regards to PROWESS, Ayoung-Chee further noted: "It is hugely important because developmental agencies who fund projects . . . give entrepreneurs a chance to really succeed, but the proposal process that is required to secure this type of funding, is almost debilitating to an early-stage venture.
Small entities, often cannot afford to hire proposal writers, so it is very important to help entrepreneurs submit high-quality and competitive proposals, in order to be eligible for this type of funding by the CDB." 
She observed that there was a widening gap between the requirements of funding institutions, and the capacity of many MSMEs in their early stages of development, to fulfill these requirements, so as to be eligible for funding.
Lisa Harding, Coordinator of MSME Development at the CDB, in explaining the background to the project, , noted that it arose because the quality of many proposals received by the Bank, required significant improvement.
She stated: "Once a concept note is submitted to us, that we think is in alignment with our mandate, and requires further strengthening for consideration of CDB's technical assistance, we engage the services of a consultant to assist the entrepreneur,  firm or institution  in strengthening the proposal."
She said that it was their intention that through the PROWESS facility, stakeholders in the Region's MSME sector will be better equipped to apply for the funding needed to improve the competitiveness and expand their businesses.