News Release
Saint Kitts and Nevis Agro-Processors to benefit from New and Improved Quality Standards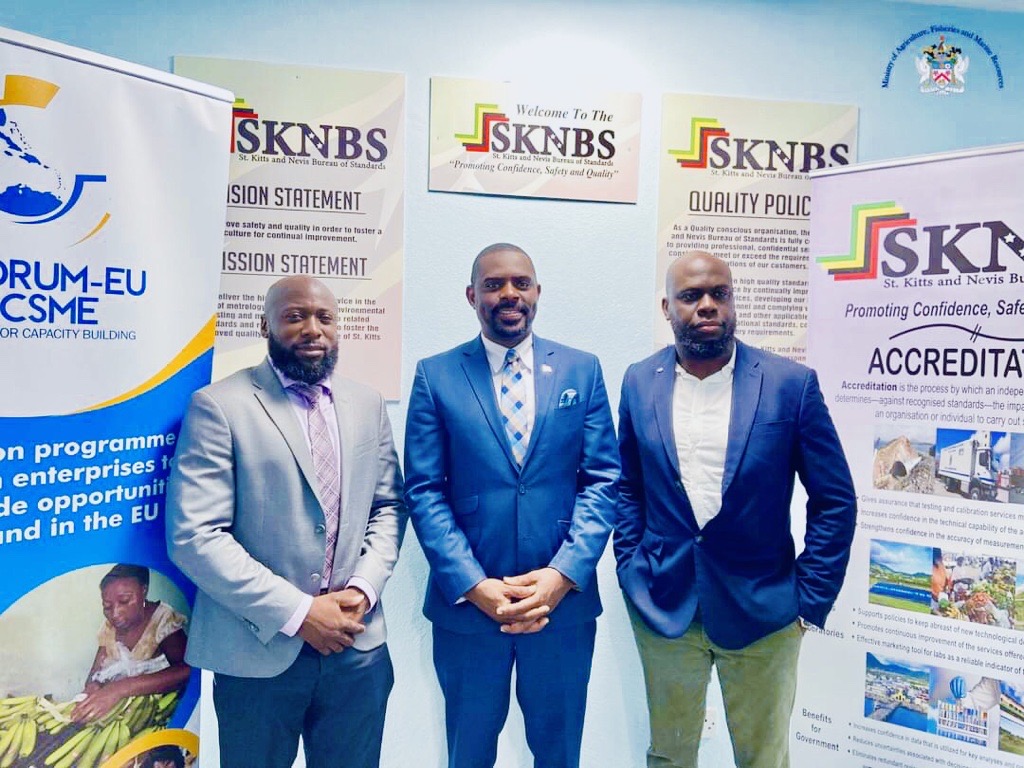 September 30, 2022, Bridgetown, Barbados – The agri-food industry in Saint Kitts and Nevis will benefit from an enhanced national quality infrastructure, thanks to a new project financed by the European Union and the Caribbean Development Bank.
The initiative provides the Saint Kitts and Nevis Bureau of Standards (SKNBS) with new metrology equipment and training, that will accelerate services to agro-processors, enabling them to fulfil quality requirements for international export and enhance food production.
Details of the "Strengthening the National Quality Infrastructure: Training and Equipment for Conformity Assessment" Project were announced during a launch ceremony on Monday, September 26, 2022. Valued at EURO 100,960, it is supported through the CARIFORUM-EU Economic Partnership Agreement (EPA) and Caribbean Single Market and Economy (CSME) Standby Facility for Capacity Building.
By developing the capacity of the agro-processing industry, the project is expected to make agricultural products more competitive and improve market access.  The initiative will also promote economic diversification and increase employment opportunities. These outcomes are particularly important to build resilience against socio-economic fallouts given the region's reliance on the tourism sector, which has proven to be highly vulnerable to shocks such as COVID-19 and extreme climate-related events.
Through the Project, the SKNBS will also accelerate improved quality standards for local food production and the availability of more nutritious food that will reduce food insecurity. More domestic food production can also counteract rising global food costs caused by the pandemic and the war in the Ukraine and contribute to CARICOM's commitment to reduce Member States' food import bill by 25% by 2025.
Mr. Daniel Best, Director of CDB's Projects Department, delivered remarks during the launch and explained, "Today we commemorate a landmark achievement for the agro-processing sector of Saint Kitts and Nevis that will enhance competitiveness, productivity and market share. CDB is proud to support this Project as it directly aligns with the pillars of the Bank's Agriculture Sector Policy and Strategy Paper 2020-2025 which seeks to promote an enabling environment and infrastructure for efficient agricultural value chains."
Featured speaker, the Honourable Samal Duggins, Minister of Agriculture, Fisheries, Marine Resources, Entrepreneurship, Cooperatives and Creative Economy, expressed the appreciation of the Government of the Federation of Saint Kitts and Nevis for the provision of equipment and other support through the Project, and added, "It brings this country closer to the point of being able to establish our export markets where we can really penetrate at a higher level than we have before. It also advances the commitment of the Ministry of Agriculture to improve our food and nutritional security."
Mr. Sheldon Jackman, Project Manager for the Delegation of the European Union to Barbados, the Eastern Caribbean States, the OECS and CARICOM/CARIFORUM stated, "Increasing capacity of local producers to generate high value high quality products will allow for an increase in exports to key markets within the region and globally.  In addition to improving trade facilitation, this Project will strengthen consumer protection; advance private sector development and competitiveness; and increase the provision of quality, reliable, safe, sustainable, and resilient infrastructure."
Mrs. Yvanette Baron-George, Deputy Programme Manager, CARIFORUM, added, "An effective quality infrastructure forms part of the fundamentals through which productivity can be enhanced and economic growth achieved. This Project will develop capabilities so that the Saint Kitts and Nevis Bureau of Standards can provide accurate and traceable calibrations to support industrial development."
The CARIFORUM-EU EPA and CSME Standby Facility for Capacity Building, which is financing the Project, is a EUR 8.75 million resource that offers opportunities to 15 Caribbean economies to grow trade, deepen integration and economic involvement, impact competitiveness, market access and exports by implementing targeted projects in thematic areas. The Project is one of 25 Standby Facility initiatives currently being implemented across the region.