News
St. Vincent and the Grenadines government partners with the CDB to build climate and disaster resilience
62 members of civil society groups and communities across St. Vincent and the Grenadines some 32 community development workers from government agencies recently participated in a week of training to improve their capacity to respond to climate and disaster risk.
The intervention, a composite of two workshops billed Improving Inclusive Disaster Risk Management through Strengthened Community-based Organisations, ran from February 10 – 14, 2020.  The first two days were dedicated to development practitioners, who met at the NEMO office on the outskirts of Kingstown, while the community members converged at the Methodist church hall in the town centre for the remaining three days. 
Among the topics covered were building local level resilience, developing a governing constitution, registration options for community-based organisations, proposal writing, ethics and accountability, resource mobilisation, records-keeping, minute-taking, conflict management, and social media communication.
"This training is geared at improving their sustainability as organisations because they will be able to apply to funding agencies like the Global Environment Facility (GEF) and the Caribbean Catastrophe Risk Insurance Facility to implement projects that will help with reducing their risk to disaster and climate change hazards. Also, it will improve their knowledge of how to be more accountable and transparent in their operations," said Claudia James, Project Manager of the Community Disaster Risk Reduction Fund (CDRRF) of the Caribbean Development Bank. 
The workshop was implemented by the CDRRF and the Ministry of National Mobilisation, Social Development, Local Government, Gender Affairs, Family Affairs, Persons with Disabilities and Non-Governmental Organisations. The workshop was supported by the National Emergency Mobilisation Office (NEMO), Jamaica's Social Development Commission, GEF's Small Grants Programme, and the University of the West Indies Seismic Research Centre. 
At the same time, Richardo Aiken, Community Development Specialist with the CDRRF, the idea, was to enable sustainable community action, which he described as the first point of response when disaster strikes.  
St. Vincent and the Grenadines has a population of just over 110,000. The main island sits on La Soufriere volcano. Like its Caribbean neighbours, the island is frequently hit by storms, flash floods, landslides, and other climate related events. 
After their first full day of workshop on Wednesday, members of CDRRF's 11 project communities and civil society groups - described the initiative as timely, informative and engaging.
Adrian 'Tari' Cadogan of Chateaubelair, found the sessions "very valuable". 
"It taught us how better to lead, the importance of record-keeping, and it taught the importance of partnership with stakeholders; [because] some people who I thought weren't partners actually are," he said. 
For Amor Jackson, who has been a community development worker for close to 30 years, the training was timely. 
"For me, it is like a refresher to what have learnt in my initial years of community development.  It is timely, in that, if the new vision now is to revamp these groups, then I will need the information because I now have to go back to them to talk about their mission, their vision, their objectives. [I also have to guide them regarding how you access funding because a lot of them don't know how [or] where to access funding, except through reliance on local government or another ministry to provide finances and technical skills," Jackson explained. 
She added that the sustainability of groups and organisations, and the value of community development to a country's overall stability were some of her key takeaways from the workshops. 
"My understanding of community development is to develop the whole man; not just give him a fish, i.e. rely on government for public assistance."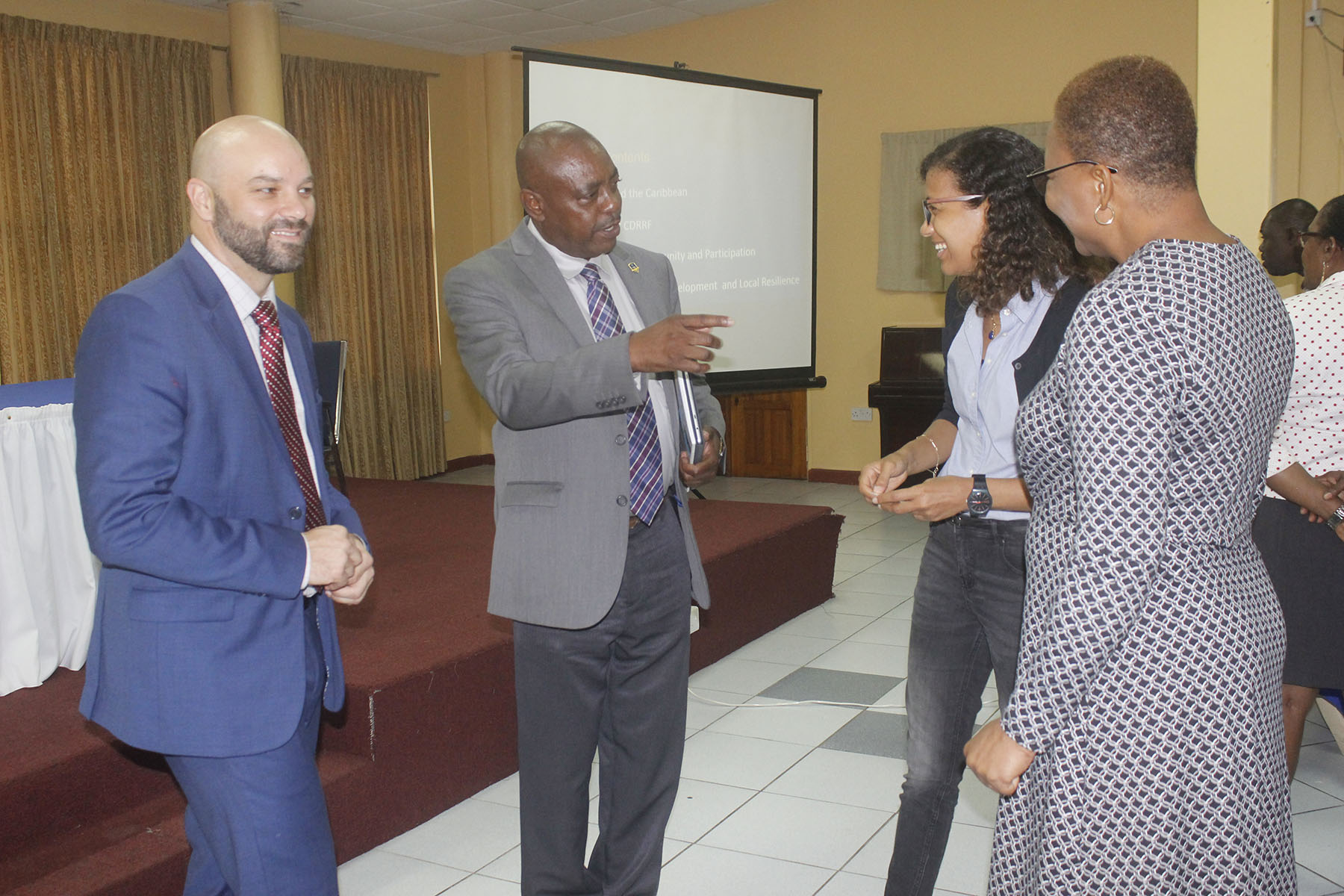 Minister Frederick Stephenson, permanent secretary Nerissa Gittens-McMillan, and chairman of the CDRRF Trust Fund Steering Committee, and First Secretary (development) at Global Affairs Canada, Matthew Straub, were among the high-level attendees at the launch of the workshops.  
St. Vincent and the Grenadines is one of four countries where CDRRF is currently implementing projects. The others are Belize, British Virgin Islands, and Jamaica. 
CDRRF is financed by Global Affairs Canada and the European Union. It provides technical assistance and grant funding up to a maximum of US$650,000 per project for disaster risk reduction and/or climate change adaptation gender-responsive initiatives at the community level in 18 CDB borrowing member countries.