News
Women entrepreneurs build skills at CDB-funded green business boot camp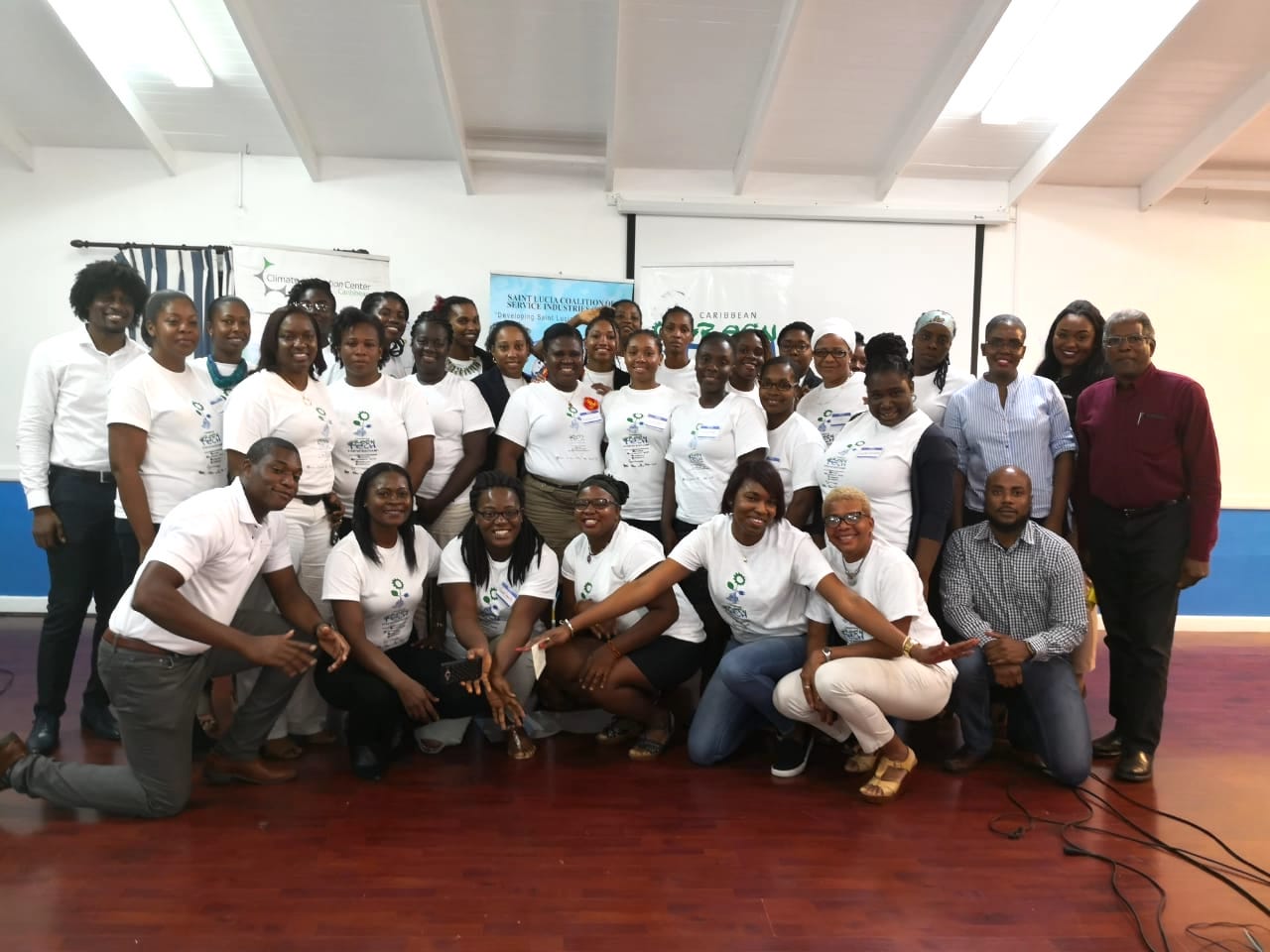 Twenty-four entrepreneurial women learned how to pursue and develop green business opportunities    during the Caribbean Women Greentech Start-up Boot Camp, held from October 10 to 12 in Saint Lucia.
The boot camp, organised by the Caribbean Climate Innovation Centre (CCIC), was funded by the Caribbean Development Bank (CDB) and held in collaboration with the Organisation of Eastern Caribbean States (OECS) and the St Lucia Coalition of Service Industries (SLCSI).
During the boot camp, participants learned how to develop successful, climate-resilient green businesses in sectors such as renewable energy, energy efficiency, water and waste management, sustainable agribusiness, resource use efficiency, transportation and tourism.
The finale of the intensive, three-day training event was a pitch competition where teams of participants presented their business models to a panel of judges.
Team Endz-on, led by Tamera Prosper, emerged winners with their idea for an online marketplace for waste materials that can be recycled or upcycled. The team won USD 1,000 and automatic entry into CCIC's Greentech Launch-it Accelerator programme.
Coordinator of Micro, Small and Medium Enterprise Development at CDB, Lisa Harding said the boot camp was helping to equip female entrepreneurs with the skills of the future.
"Greentech is a growing area of economic opportunity and one that has particular resonance for us in the Caribbean, as we are at the frontlines of climate change. Businesses that help us to cope with climate change, that support climate mitigation efforts are what we urgently need in the Region and this boot camp is building a cadre of entrepreneurs with just those skill sets," said Harding.
The boot camp is part of a wider, CDB-funded programme of technical assistance for CCIC, to which the Bank has provided nearly USD150,000 to facilitate capacity-building through "train-the-trainer" workshops and a series of boot camps across the Region. Previous editions of the boot camp were held this year in Grenada and Suriname along with a regional train-the-trainer workshop which took place in Barbados. Upcoming boot camps are set for St. Kitts and Nevis, and Trinidad and Tobago in 2019.
CDB's support to CCIC is in line with the Bank's strategic objectives of promoting inclusive growth and sustainable development in the Caribbean.