News Release
African and Caribbean Development Banks Strengthen Cooperation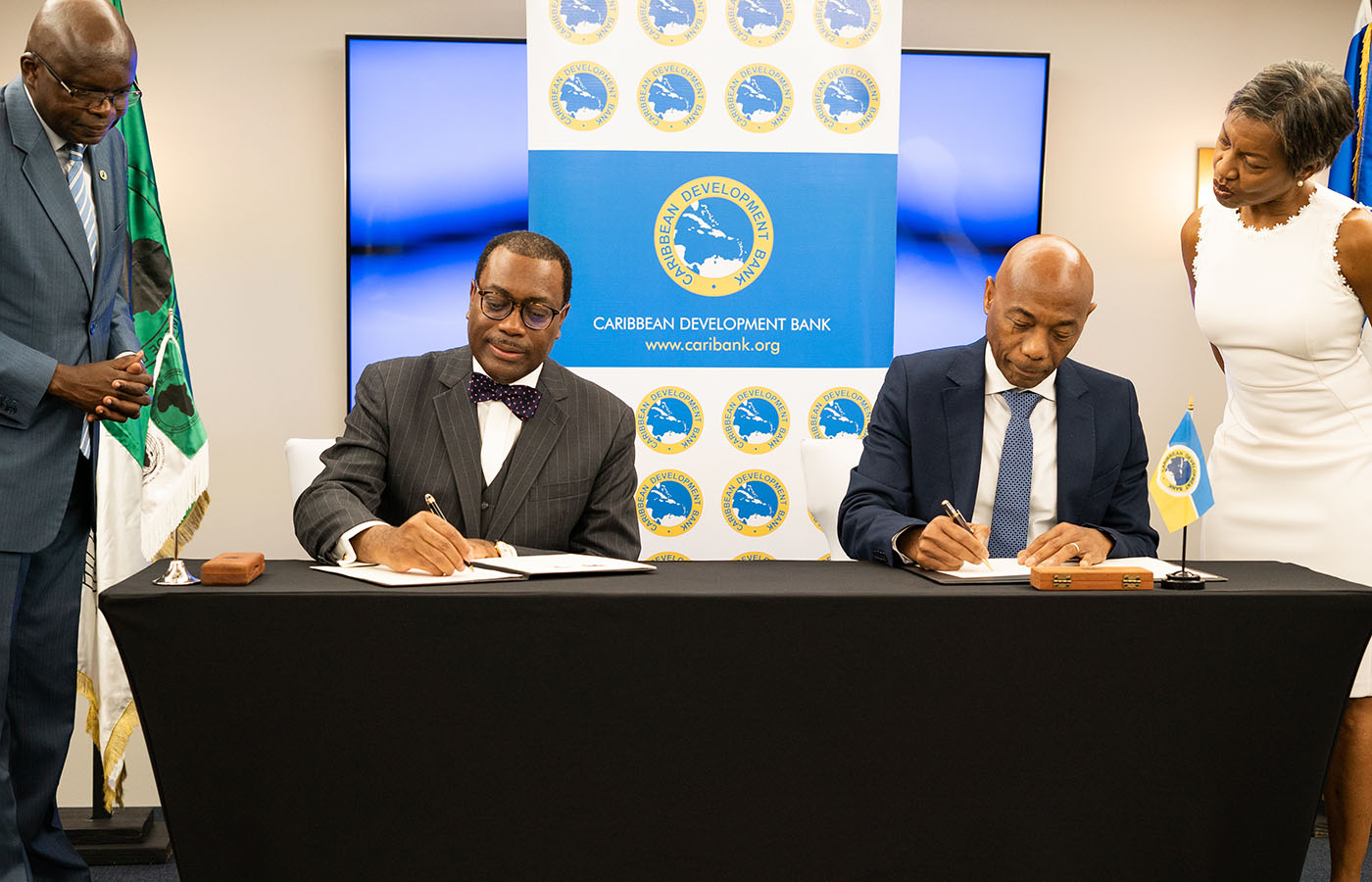 The African Development Bank Group and the Caribbean Development Bank strengthened their collaboration this week with the signing today of a memorandum of understanding (MoU) in Providenciales, Turks and Caicos Islands. 
African Development Bank Group President Dr. Akinwumi Adesina and Caribbean Development Bank President Dr. Hyginus 'Gene' Leon signed the MoU on behalf of their respective institutions. Adesina is in Providenciales to take part in the Caribbean Development Bank's 52nd Annual Meeting, where he will deliver the keynote at the 2022 William G. Demas Memorial Lecture.
Under the MoU, the two institutions will work closely across various areas. They will collaborate on economic diversification initiatives in their respective regions, with an emphasis on deploying technological and digital transformation solutions in commerce, trade, public services, and financial intermediation and inclusion.
The two regional development banks will join forces to promote trade between Africa and the Caribbean. They will also work together on the sustainable development of micro, small and medium sized enterprises.
The organisations will also play a catalytic role in making their regional economies more resilient, especially for those most vulnerable. Collaboration by the financing agencies will promote the development of and access to innovative financing instruments to encourage the flow of funds into the two regions.
Adesina said: "Our challenges and the solutions that we must pursue to address them are similar. Together, we are catalyzing the development of our respective regions, making a difference in the lives of our people, ensuring that impact is strong and lasting, and shaping the global narrative about our respective regions and institutions."
Leon said: "Deepening partnerships and knowledge sharing are critical for us to realise the transformative development of our respective regions as we envision. This agreement will not only strengthen our relationship with the African continent but also further fuel the innovative path we are pursuing in areas of mutual interest beneficial to all."
The theme of the Caribbean Development Bank's 52nd Annual Meeting— "Measure Better to Target Better"—resonates with the two regional development banks, as both institutions place a high premium on measuring the efficacy better targeting the needs of their regional member countries.
Adesina was received by the Premier of Turks and Caicos Islands, Honourable Charles Washington Misick. He also met with members of Turks and Caicos' private sector.