News
CDB, Adaptation Fund to invest more in regional climate resilience programmes
As super storms and adverse weather conditions pose increasing threats to the Region, the Caribbean Development Bank (CDB) has pledged its continued commitment to work with key stakeholders, such as the Adaptation Fund (AF), to build climate resilience within its Borrowing Member Countries (BMCs).
Some of the Bank's measures include mobilising grant and concessionary financing for BMCs, increasing investment in climate resilience programmes, and strengthening technical capacity.
Speaking at a just-concluded workshop, co-hosted with the Fund, and aimed at enhancing project development, Monica La Bennett, the Bank's Vice-President (Operations), stated that tackling climate change in one of the world's most disaster-prone regions is a matter of urgency. It cannot, therefore, be business as usual, she said, referencing the recent catastrophic weather events that devastated some parts of the Caribbean.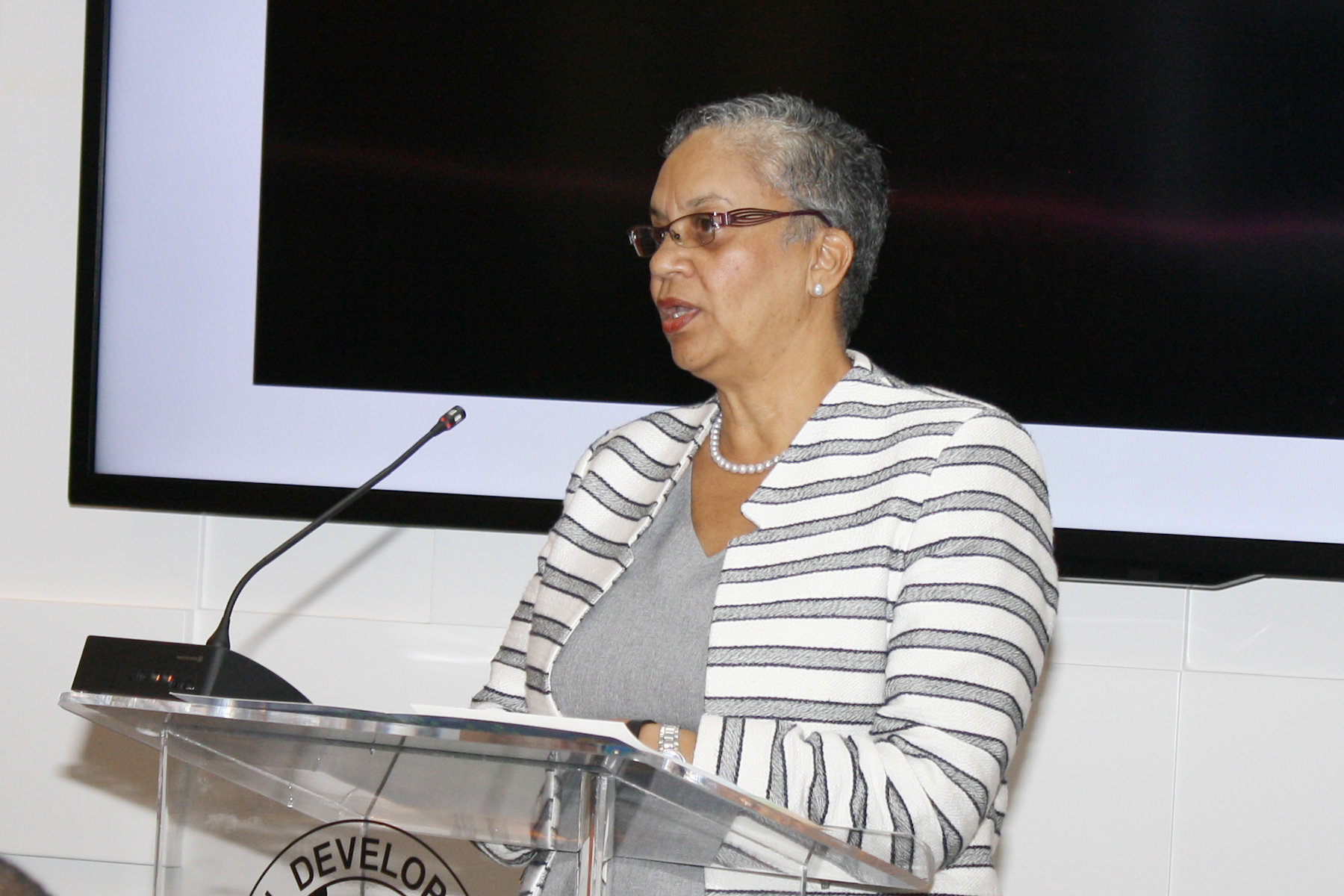 "With governments having limited fiscal space, it means a greater reliance on an entity like the Adaptation Fund. The challenge that countries face is the considerable effort taken to prepare full project proposals. As such, we want the Adaptation Fund to help us build the upstream capacity to get good projects out the door," La Bennett said during the opening of the Workshop, co-hosted by CDB and the Fund.
The AF currently provides small project formulation grants to National Implementing Entities (NIEs) accredited to the Fund, to build capacity in project preparation and design. Antigua received USD9.9 million (mn) to improve drainage, wetlands and climate-proofing infrastructure, Jamaica, USD3 mn to enhance smart and sustainable agriculture through improved water and land management, and Belize received USD6 mn for a project aimed at restoring marine and coastal systems.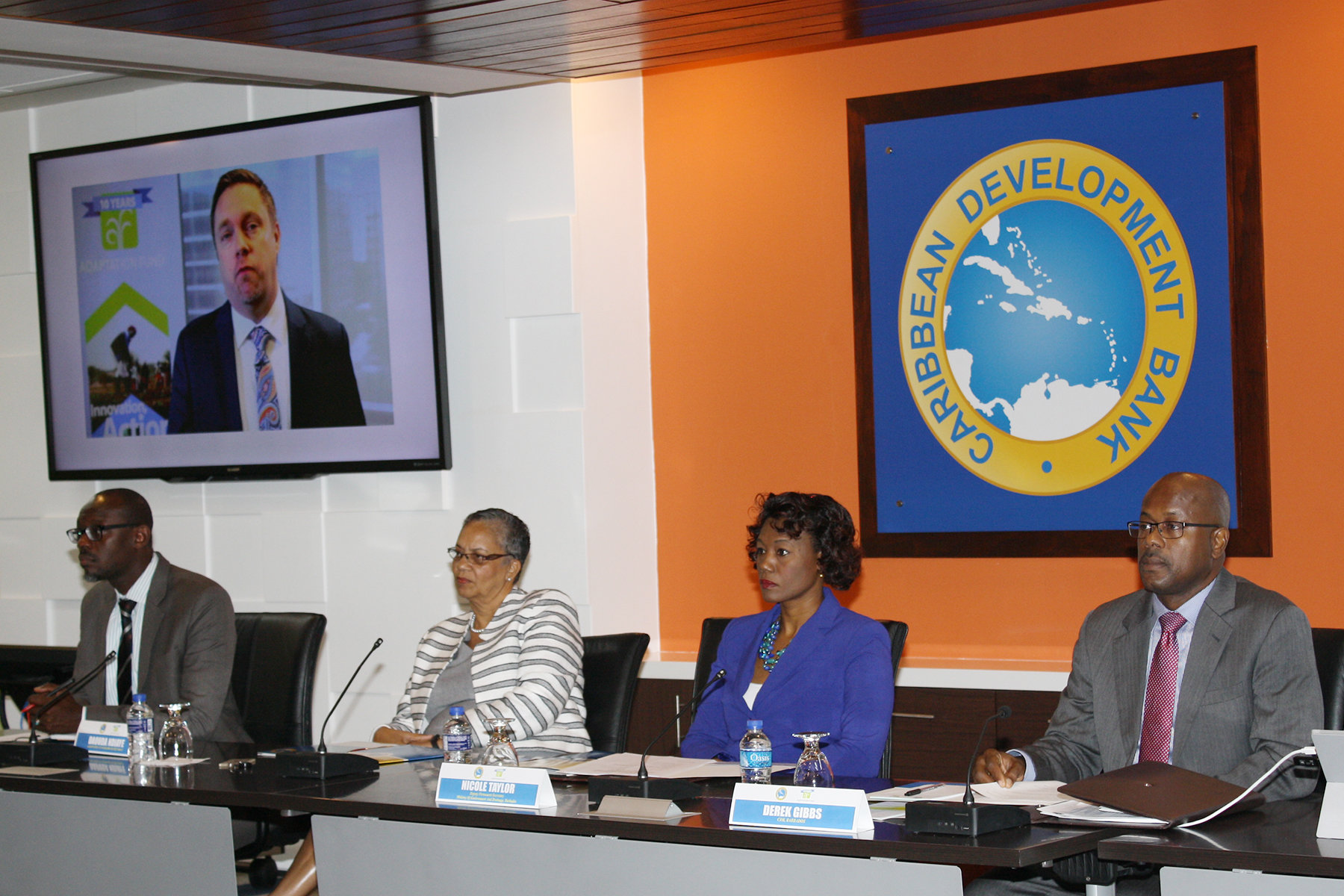 Antigua and Barbuda, Belize and Jamaica are, however, the only NIEs among the Bank's BMCs.
"We recognise that most of our BMCs may be at a disadvantage since only three NIEs exist. Knowing the importance of capacity building, we would ask the AF to consider allowing regional accredited entities to also access such funds and help support those countries that don't have NIEs," said the Vice-President (Operations).
Thirty-three participants from 13 BMCs participated in the two-day interactive discussions, which covered all aspects of the Adaptation Fund project cycle – from design, preparation and development to evaluation. Attendees also discussed mainstreaming gender, environmental and social considerations into Fund projects.
Staff from the CDB and the Adaptation Fund participated.
Complementing its partnerships with AF and other climate action partners, CDB is in the process of updating its Climate Resilience Strategy to define the scope of activities and direction for the period 2018 to 2025. Under the new Strategy, the Bank will support climate resilience programmes in its BMCs to meet their climate action commitments.
Since approval of its Climate Resilience Strategy 2012-2017, 58 percent of projects financed have included climate change adaptation and/or mitigation elements in the climate-sensitive sectors of water, education, physical infrastructure (sea defenses, drainage and roads) and agriculture.
Climate financing represented 13 percent of total CDB project financing in 2015, while in 2016, the Bank approved USD50 mn for projects with explicit climate resilience and sustainable energy actions. This year, USD10 mn has been provided in technical assistance to build technical capacity and support climate-resilience initiatives at the regional and national levels.