News
CDB President participates in high-level mission to Dominica
President of the Caribbean Development Bank (CDB), Dr. Wm. Warren Smith, has reaffirmed the institution's support for the Government and people of the Commonwealth of Dominica, after participating in a Caribbean Community (CARICOM) high-level mission to that country on September 26.
Smith was part of a delegation that met with the Prime Minister of Dominica, Hon. Roosevelt Skerrit in Roseau to discuss rehabilitation and recovery efforts for the country following Hurricane Maria.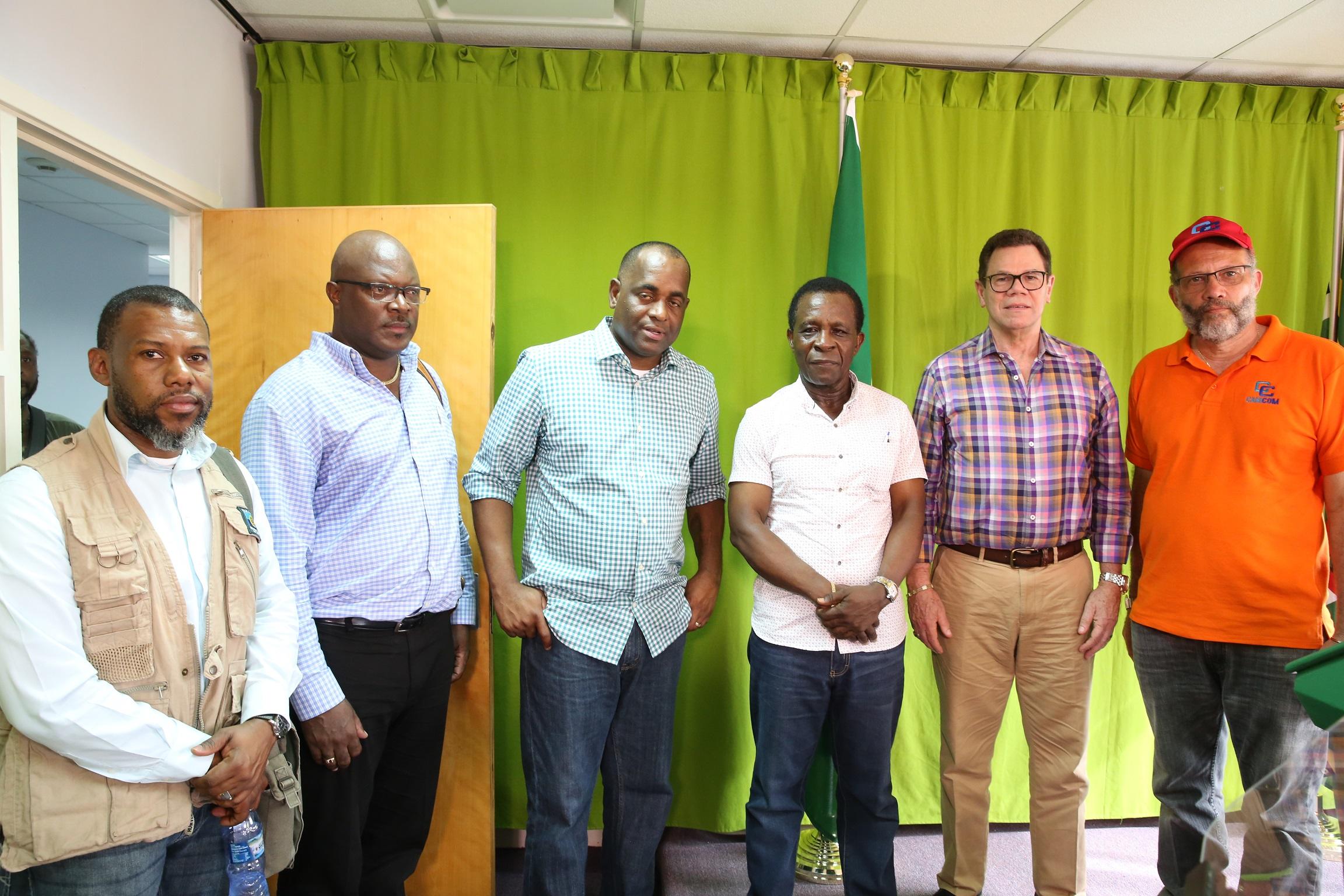 "CDB stands in solidarity with the Government and people of Dominica as the country seeks to rebuild and recover from this devastating disaster.  We are acutely aware of the significant damage that Hurricane Maria has caused, and have mobilised resources for emergency relief and immediate response. CDB reaffirms our continued support for Dominica to help the country rebuild more resiliently in the months and years to come," said Dr. Smith upon his return to CDB's Headquarters.
CDB has begun making preparations to assist with the restoration of essential services including water and sanitation, and lend technical experts to support the recovery efforts.
Water and sanitation
The Bank's focus will include the restoration of the water supply in Roseau, where damage to the treatment plant at Antrim and associated pipelines has cut off water in the capital. CDB, which was in the process of upgrading the plant and equipment through its Third Water Project, is discussing with the Dominica Water and Sewerage Company Limited, ways to overcome the current logistical challenges to conduct the works, which will be critical in getting the water system running again in Roseau.
Technical expertise
CDB is in discussions with private consultants and development partners to provide short and medium-term assistance, including engineers and other technical experts, to assist line Ministries in Dominica in the recovery effort. The Bank is also discussing with regional utility groups and engineering associations opportunities for providing financial support and human resources to assist with recovery in Dominica.
CDB has also discussed with the Government of Dominica the option of re-prioritising the use of undisbursed balances on existing disaster rehabilitation loans for post-Maria recovery works.
The high-level delegation that visited Dominica included Dr. the Rt. Hon. Keith Mitchell, Prime Minister, Grenada and Chairman of the Caribbean Community (CARICOM); Hon. Adriel Brathwaite, Attorney General of Barbados; H.E. Irwin LaRocque, Secretary-General, CARICOM; and Ronald Jackson, Executive Director, Caribbean Disaster Emergency Management Agency.