News
LiDAR Programme takes flight with support from CDB, partners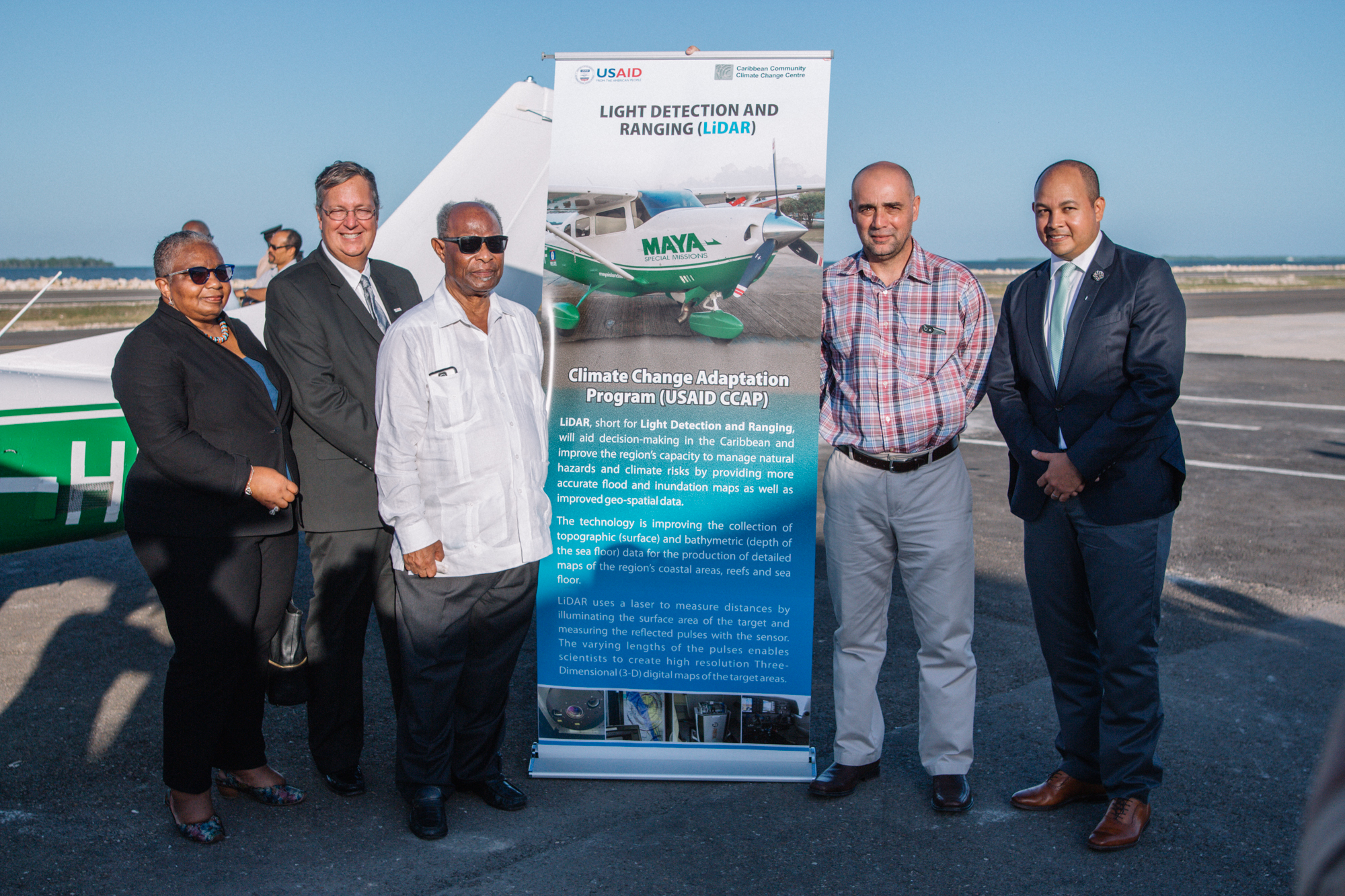 A project co-financed by the Caribbean Development Bank (CDB) that aims to build the Region's climate resilience through technology, took flight recently in Belize.
The occasion was the launch of the Light Detection and Ranging (LiDAR) Airborne Programme, which will use LiDAR technology to map almost 10,000 square kilometres of vulnerable coastal areas in Borrowing Member Countries of CDB.
In May 2018, CDB's Board of Directors approved a grant of USD1.5 million (mn) for the project, which will be executed by the Caribbean Community Climate Change Centre (CCCCC) over a three-year period.
The grant also provides resources for the preparation of an Intellectual Property Policy (IPP) and a product development and marketing strategy for the Centre, as well as the training of 38 end-users from the Bank's Borrowing Member Countries (BMCs) in the applications of LiDAR data. 
Cheryl Dixon, Coordinator of the Environmental Sustainability Unit at CDB, said the project would go a long way toward helping the Region become more informed about and more prepared for the impacts of climate change.
"Having a sound understanding of the likely impacts of climate change in specific locations and for specific types of investment are fundamental first steps toward managing climate-related risks.  A major constraint and need has been the additional investments required to provide regional public goods such as climate projections and early warning systems. In many of our countries critical datasets, meteorological, environmental, biological, geospatial and social datasets for project specific sites are absent, patchy and/or outdated. CDB's resources will be used to finance the initial baseline surveys in all our member countries at a cost of USD1.5 mn, providing critical geospatial datasets of coastal and nearshore environments which are vital for planning and designing critical infrastructure such as roads, ports, coastal sea defenses," said Dixon.
The newly launched LiDAR system is a crucial step in assisting the Region in providing reliable and accurate geospatial datasets to support climate resilience decision-making. The remote sensing technology is used to obtain highly accurate elevation measurements of the earth's surface.  LiDAR technology is capable of simultaneously gathering both topographic and bathymetric data, which are used to provide detailed information of land and ocean floors, and offer economies of scale.
The information gleaned from the LiDAR programme will support efforts to design new climate-resilient infrastructure, retrofit existing infrastructure as well as support coastal zone management and formulate natural disaster risk management strategies and plans.
The Barbados-based USAID Eastern and Southern Caribbean Office and locally owned Belizean airline Maya Island Air are also supporting the project.