News
Regional DFI Conference focused on strengthening frameworks for a sustainable banking environment
Development Financial Institutions (DFIs) across the Region are now better equipped to respond to the challenges and changing needs of the Region, thanks to a recent conference to increase awareness of best practices and current trends in inclusive and sustainable development financing.
Over 70 persons from 40 organisations in 21 countries participated in the conference, "Development Banking in the Caribbean: A Regional Approach to Sustainable Development," organised by the Caribbean Development Bank (CDB), in partnership with the Saint Lucia Development Bank (SLDB).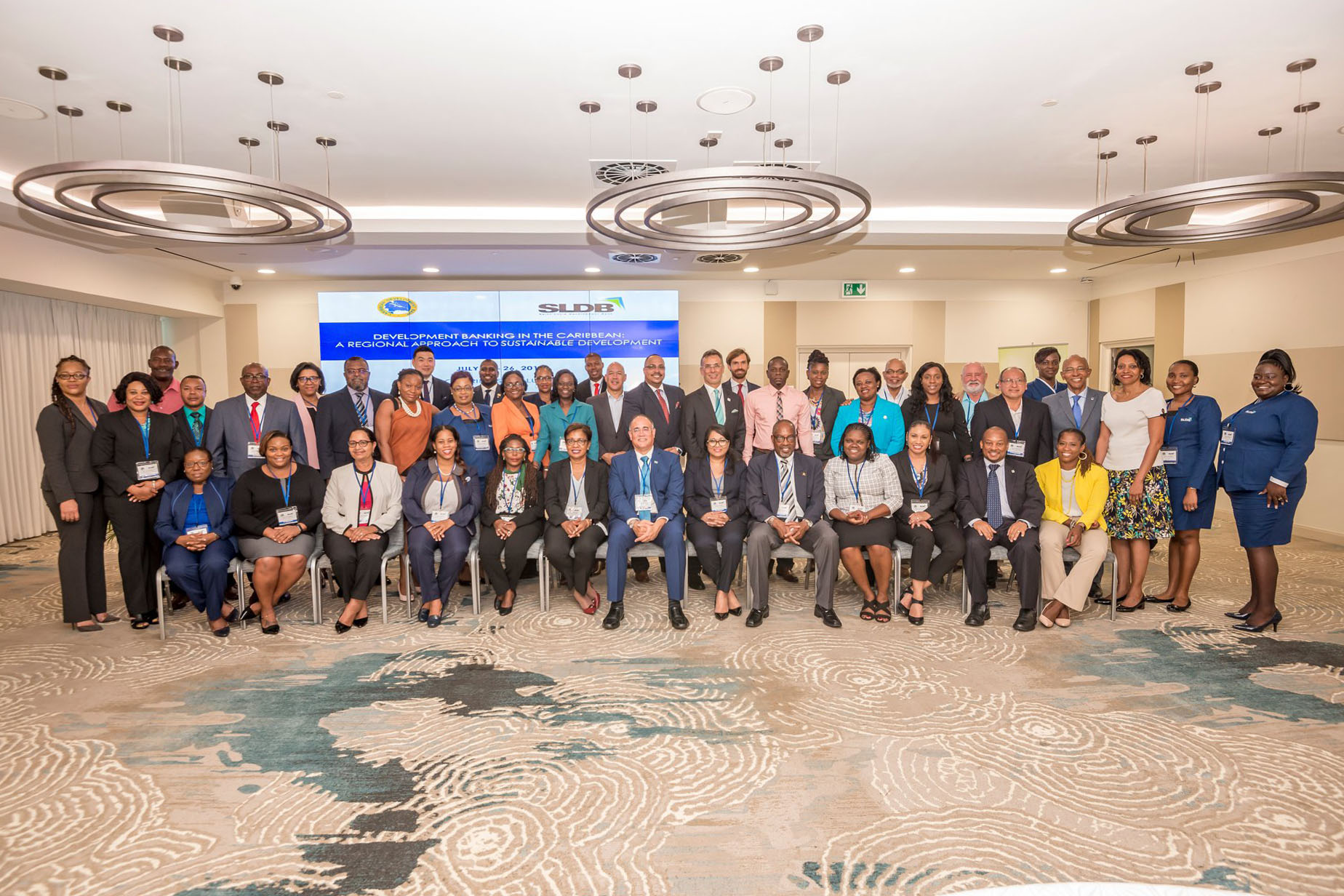 Critical areas addressed during the three-day Conference included access to finance; ecosystem enhancements to support micro, small and medium-scale enterpises (MSMEs); improved financial reporting to meet international standards; enhanced enterprise risk management practices; corporate governance; and climate resilience. Additionally, the Conference was used to increase awareness of CDB's financing and technical assistance products that are available to DFIs, and MSMEs through CDB.
Peter Blackman, Portfolio Manager, Private Sector Development Unit, CDB remarked, "Through the Conference, we sought to provide our Regional DFIs with a platform for discussing issues germane to their operations, and to  encourage knowledge sharing to improve corporate governance, strengthen institutional capacity, and diversify product offerings."
Milverton Reynolds, Managing Director, Development Bank of Jamaica, described the Conference as "timely" stating, "With the changes taking place in the financial environment, it is important for regional DFIs to look at our business models and identify avenues for reinventing ourselves to remain relevant in fulfilling our mandates to facilitate economic growth and development in our various countries."
These sentiments were echoed by Natalie Ewing Goff, General Manager, Development Finance Corporation, Belize, "The Conference reinforced that we share common challenges across the Region and also highlighted the need for home-grown solutions if the Region's DFIs are to meet the needs of our people for financing and development. Let us not wait another 13 years for a gathering of DFIs. Instead let us, as leaders, seize the opportunity presented to collectively work on the challenges, capitalise on opportunities to create even greater development impact; reinventing our operations as needed to address changing needs and challenges," she said.
Merida S. Cable-Lewis, Director of Trade, Department of Trade, Industry and Consumer Affairs, Turks and Caicos Islands, said the information shared will be used to explore ways in which her Department can strengthen its approach to financing and supporting (MSMEs. "The presentations on Ecosystem Enhancements to Support MSMEs, Current Trends and Practices in Financing the Creative, Innovative and Cultural Industries and A Case for Greater Utilisation of Business Support Services to Enhance the Sustainability of MSMEs provided an opportunity to learn about programmes, grants and other initiatives that exist to support MSMEs and the growth of alternative industries. This is especially important to the Turks and Caicos Islands having recently established a Department of Trade, Industry and Consumer Affairs which bears overall responsibility for facilitating broad based economic growth and sustainable development. This includes developing mechanisms aimed at encouraging entrepreneurial activity, creativity and innovation."
For Dave Smith, Managing Director, Bahamas Development Bank (BDB), the Conference reinforced the importance of ongoing initiatives by the BDB to strengthen its corporate governance framework and improve information management and reporting. "The Bahamas Development Bank Act dates back to 1974 and, therefore, the governance structure is in need of revision to better align with best practices. We are also exploring opportunities for integration of our information management across the organisation to support informed decisions."
Describing the Conference as "insightful," Ms. Shalini Khedoe, Manager Operations, Nationale Ontwikkelingsbank van Suriname N.V, (National Development Bank of Suriname) noted, "We are currently in the process of restructuring. As such, the lessons learnt and information gathered during the Conference provided much food for thought at the policy level. For example, identifying a good banking system; discussions on what policy on whistleblowing would work for us at this stage, as well as "self-Insurance" methods for certain Credits."
Participants benefited from presentations by industry professionals from a variety of institutions, including the Latin American Association of Development Financing Institutions; European Investment Bank; Business Development Bank of Canada; the Caribbean Catastrophe Risk Insurance Facility; University of the West Indies; Eastern Caribbean Partial Credit Guarantee Corporation; Caribbean Information and Credit Rating Services Limited; Frankfurt School of Finance and Management; and the Green Climate Fund.