News Release
Vincentian fashion designer lauds CDB, CEDA assistance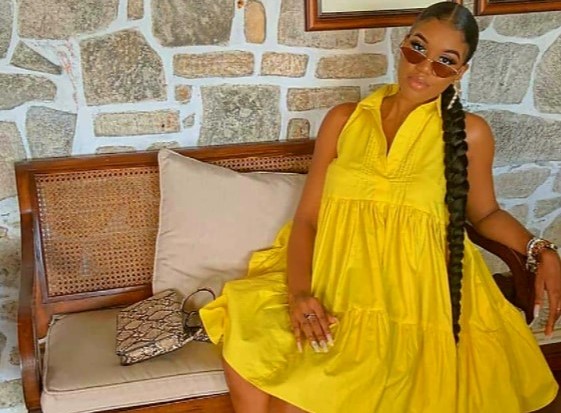 The award of a US$10,000 prize grant from the Caribbean Development Bank's (CDB) Cultural and Creative Industries Innovation Fund (CIIF) was exactly the stimulus Kimon Baptiste-St. Rose's enterprise needed to help launch its expansion in the region.
The young Vincentian knew from an early age that fashion design held her passion. What she did not envision at the time, was that it could unlock the path to a satisfying career in which she provides full-time employment for six people, and delights women across the Caribbean and North America with quality, unique, clothing from her successful Kimmystic Clo brand.
Baptiste-St. Rose comes from a family of seamstresses in St Vincent and Grenadines. Sewing machines, fabric, and thread were as commonplace in her home as cutlery and dishes. From age ten, she experimented with taking clothing apart and sewing them back together.
"I was extremely tiny - short and small, and it was difficult to find clothes that fit the way I wanted. My mom taught me how to sew and from there I started practising. . . . Then friends in high school wanted items made and that's where the 'business' started," she recalls.
And even when she left St Vincent to pursue a degree in Management and Psychology at the Cave Hill Campus of The University of the West Indies (UWI) in Barbados, she was not the typical jeans and T-shirt student. She wore her own designs and attracted the attention of other students who made several requests to give them that unique look too.
"It helped me pay for school as I was not there on a scholarship," she remarked. After graduation and acceptance to pursue post-graduate studies, Baptiste-St. Rose had a decision to make; throw her energies into Kimmystic Clo or spend another year at university going after a master's degree. She chose Kimmystic Clo and has not regretted the choice.
As a microbusiness operator, Baptiste-St. Rose admits she struggled with staffing for her fledgling enterprise. This resulted sometimes in inconsistency in the products, as finding employees who were proficient in sewing and construction was a challenge.
However, the entrepreneur praises the CDB and its Accelerator executing partner, the Barbados-based Caribbean Export Development Agency (CEDA), for establishing the fashion accelerator in which she and four others were grant awardees.
Baptiste-St. Rose's success story, however, has been her determination not to be another casualty of the COVID-19 pandemic, as she watched businesses close their doors all around her.
"From the prize grant, I was able to launch the website which helped us tremendously during COVID because we could no longer rely on the local market or even reach the regional market. As a result of our website, we shipped products to Canada, Europe and the United States and it helped to propel the Kimmystic Clo brand to the international stage.
"I am in the process of trying to develop more content for the website kimmysticclo.com because it has been doing so well," she disclosed.
"Even before winning the grant, the accelerator project was extremely beneficial. It helped me to be critical of the work we were initially producing as opposed to after I underwent the training.
"The CIIF project was a capacity building one, and the prize grant was used to train my employees and position Kimmystic Clo to become export-ready. It  also helped me to acquire proper machinery that I needed. Prior to that, we were working with domestic sewing machines and after we acquired a few industrial sewing machines, irons, and industrial overlock machines,  the quality of the finished product was to a higher standard," Baptiste-St. Rose observed.
Following the capacity building project, Baptiste-St. Rose recalled how Kimmystic Clo started "getting noticed" and retail stores in the region started reaching out to her. She moved from just two workers to six.
Kimmystic Clo apparel is now retailed in high-end boutiques in Jamaica, Anguilla, St Lucia and Antigua. She proudly acknowledges, "These were persons and storeowners who saw what I was producing and approached me to carry the brand. I am particularly proud of being in that space in Jamaica."
The businesswoman, wife, and mother who also incredibly finds time to "moonlight as a flight attendant" because she "leaves nothing to chance with this pandemic", said the cabin crew side hustle was one of the best decisions she made.
"Prior to COVID, I relied heavily on the United States to source my fabric. However, after COVID hit and I started flying, I found other places where I could source my fabrics.
"In addition, it allowed me to meet some of the store owners in person and they really appreciated that. Prior to going to Jamaica with the airline, I attended and showcased my work at a major expo in Jamaica before COVID-19 through funding from Caribbean Export. The reception was just fantastic. It was so great, I sold about 80 per cent of the items I took to Jamaica. When the buyers approached me after, it just blew me away. Having a presence in Jamaica at that level, I felt that was a real accomplishment," she gushed.
Baptiste-St Rose said of the CDB's CIIF programme: "I feel like I owe all this to my exposure to the accelerator programme and the additional prize grant funding gave me the start and the push I really needed to be able to accomplish all this.
"It helped in informing my thought processes, not just on the financial side but being able to assess my goals and what I want to accomplish."