News
Vybzing 2019 participants share powerful, regional experience
Vybzing 2019 has ended but for the dozens of young people who took part in the Caribbean Development Bank's (CDB) flagship youth engagement forum this year, the experience was one that will live on with them.
Barbadian student and entrepreneur, Britney Sealy said the three-day event which ended on Monday, June 3, gave her an expanded sense of possibility.
"One of my big takeaways was that anyone can go forward and achieve their goals. Seek those resources, seek the help that you need but you can do it," said Sealy.
Vybzing, now in its 18th year, had a new feel and format this year. For the first time, the Bank expanded the annual event, which takes place ahead of its Annual Meeting, to include participants from the across Region.
Young people from 17 of CDB's 19 Borrowing Member Countries received the opportunity to go to Trinidad and Tobago for the event.
Cherline Dabel, a 21-year-old civil servant and culinary entrepreneur had previously participated when the Turks and Caicos Islands hosted the Meeting in 2017. She said she found the broadened regional scope to be "powerful."
"It was nice to experience what the other countries are experiencing and realising that it's not really different to what we're experiencing. We came together and made unique solutions to those problems and that was pretty amazing. [It's] more powerful I think when you have diverse opinions coming together," shared Dabel.
On the forum's first day, 50 young people from Trinidad and Tobago joined the residential participants for the event, which was held this year under the theme 'Youth-Led Innovation, Regional Transformation!'
During the event, the group of activists, entrepreneurs and innovators learned how to leverage technology and innovation to further their causes and enterprises.
Facilitators and presenters from organisations as varied as the University of the West Indies, Caesar's Army, TEN Habitat and IBM took the young people through exercises and sessions on design thinking, Lean Methodology, artificial intelligence (AI) and gender equality and social inclusion.
The forum was underpinned by a focus on how these innovations and technical and social skills can be applied to help the Region attain the Sustainable Development Goals (SDGs). The SDGs were set by the United Nations General Assembly in 2015 as a set of global targets for 2030.
 As part of this exercise, participants contributed to and built out an interactive vision wall, showcasing their ideas and advocacy messages for tackling the Region's most pressing development challenges.
The participants explored these ideas further during the pitch session, which closed out Vybzing. There, they outlined their solutions aiming to win cash prizes, mentorship sessions from TEN Habitat and the chance to develop their proposals into tangible project proposals  that could be elgible for  CDB funding or technical assistance.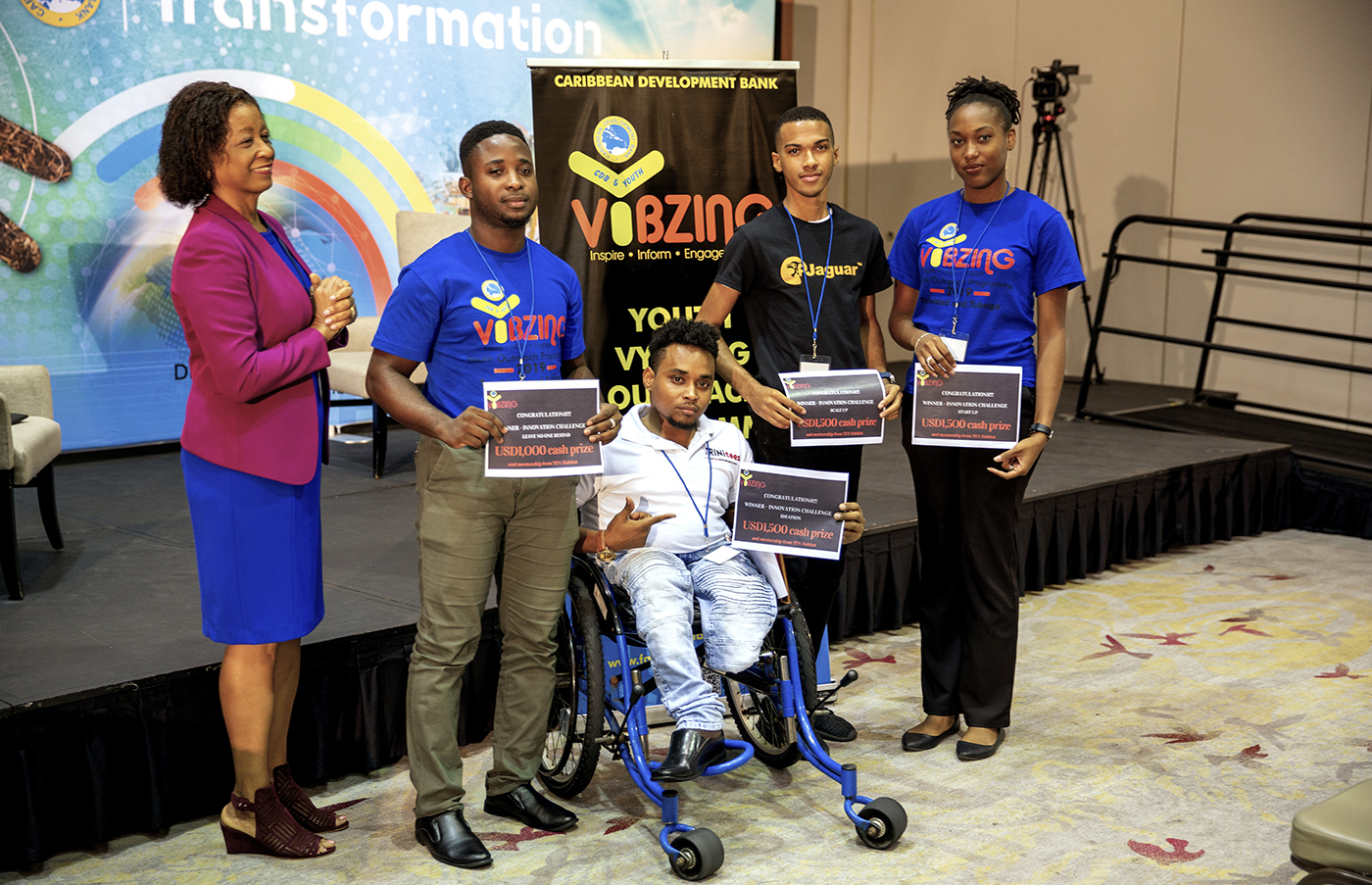 The winners of the pitch session were Trinidadian Justin Barker for the ideation phase, Vincentian Jannah Browne for start-up and Antiguan Trevaun Solomon for the scale-up phase. Barker won for his social enterprise promoting inclusion of people with disabilities while Browne won for her project integrating AI into fashion and Solomon for his use of technology to deliver a progressive education platform.
Malcolm Wills of Guyana won a special prize for his proposal, which exemplified the principle of the Sustainable Development Goal of 'Leave No-one Behind'. Wills is currently working with his partners to produce affordable prosthetic limbs via three-dimensional (3D) printing.