Natural Disaster Management Cluster: St. Kitts and Nevis, The Bahamas, Saint Lucia, Jamaica, St. Vincent and the Grenadines (2018)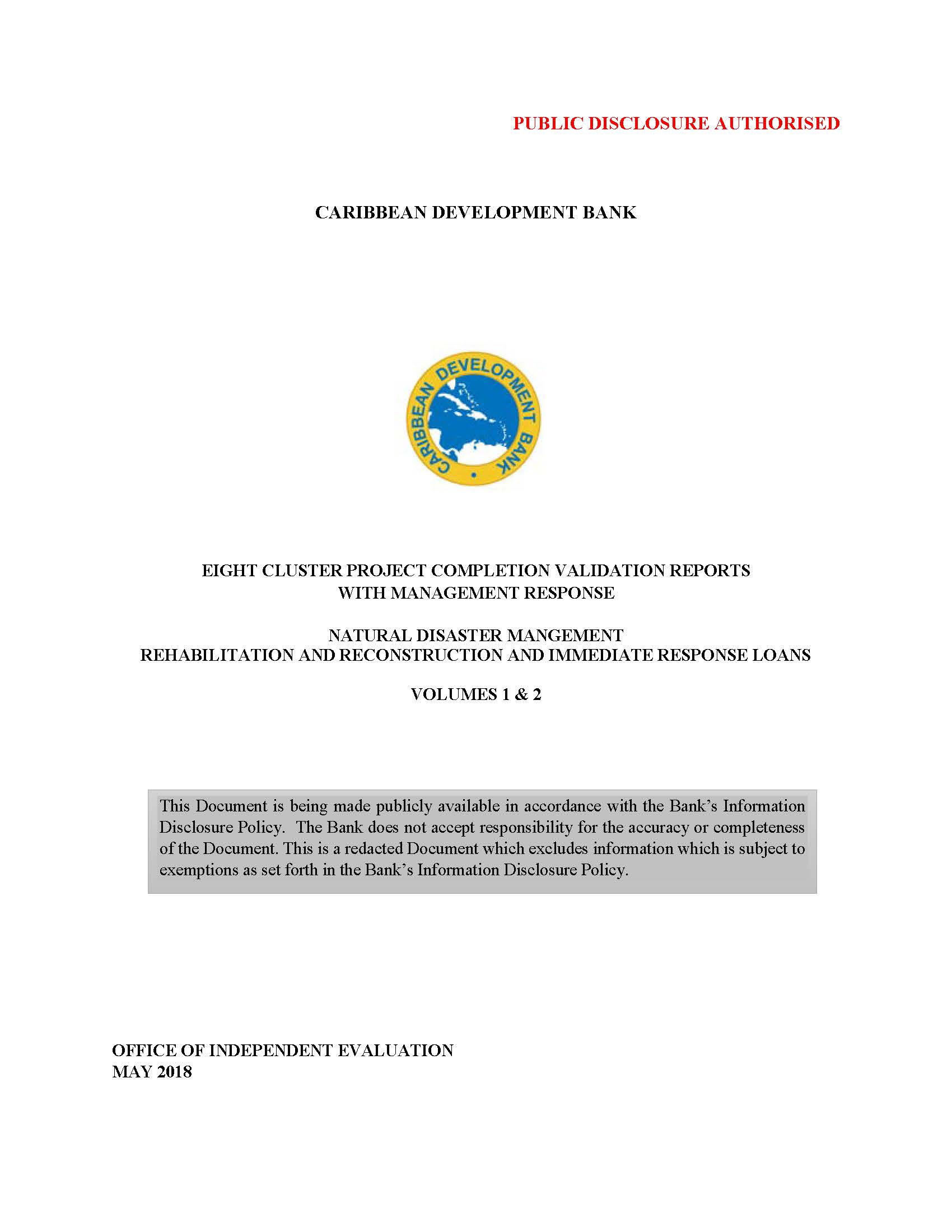 Summary
The Caribbean Development Bank's (CDB) Evaluation Policy mandates the Office of Independent Evaluation (OIE) to validate Project Completion Reports (PCRs) that are submitted by Operations; a practice common to other Multilateral Development Banks.   
A cluster of eight PCRs for Natural Disaster Management (NDM) interventions were selected by OIE to be validated in 2018.  The programming of NDM is guided by CDB's Disaster Management Strategy and Operational Guidelines (DiMSOG) 2009.  DiMSOG outlines CDB's strategy and operational guidelines for assistance to its Borrowing Member Countries (BMCs) for disaster risk management (DRM) and climate change adaptation (CCA).  The main purpose of the DiMSOG is to provide clarity to the BMCs on the scope and nature of CDB's DRM and CCA interventions, and strategic direction and operational guidance for CDB staff. While it conceptually supports all areas of intervention across the Bank, post-disaster interventions are specifically delivered through Emergency Relief Grants (ERGs), Immediate Response Loans (IRLs) and Rehabilitation/Reconstruction Loans (RRLs).  The cluster being validated includes three RRLs and five IRLs approved between 2000 and 2010.  
OIE received approval from the Oversight and Assurance Committee to undertake a thematic evaluation of DiMSOG as part of the 2018-19 work programme.  Among other objectives, the evaluation aims to: (a) gather evidence and lessons based on successes, major issues and challenges that will inform a new iteration of DiMSOG; and (b) understand the relevance and effectiveness of DiMSOG, especially with regards to responding to disasters through IRLs and RRLs.  The results of the cluster PCR validation exercise will contribute to the evaluation's review of effectiveness, relevance, and the identification of lessons learned and recommendations for the next iteration of DIMSOG. 
The Cluster PCVR is presented as two volumes.   Volume 1 covers the three RRLs and will follow the standard validation process in which four core evaluation criteria (relevance, effectiveness, efficiency and sustainability); as well as two complementary criteria (CDB and Borrower performance) are assessed against the PCR.  The validating of the five IRLs will focus only on two core criteria (efficiency and effectiveness); as well as complementary criteria (BMC and CDB performance).  The validation of the IRLs is presented in Volume 2.