News
CDB signs cooperation agreement with the UNDP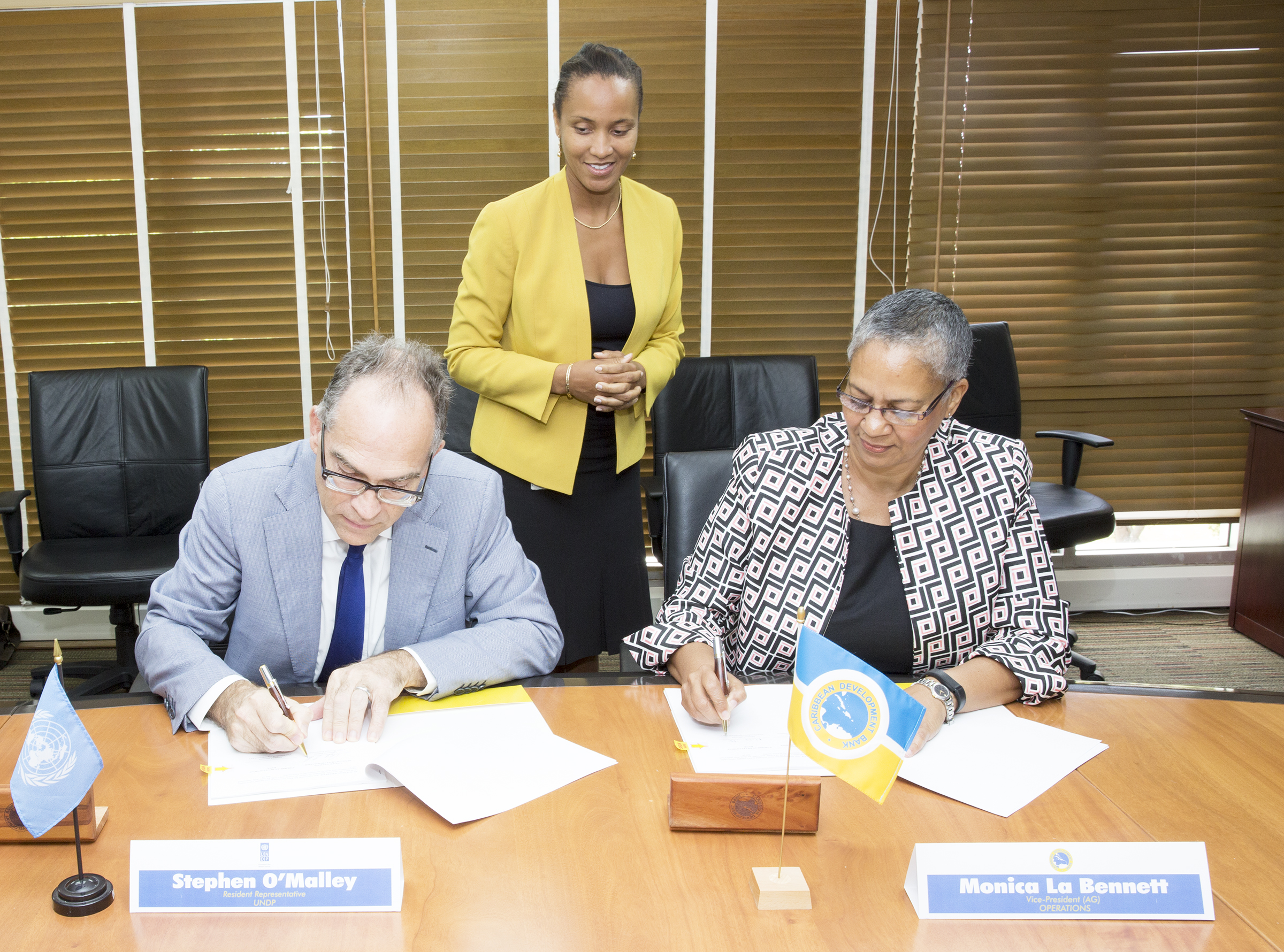 The Caribbean Development Bank (CDB) and the United Nations Development Programme (UNDP) have signed an agreement that provides a framework to improve cooperation between the two entities. The signing took place at the Bank's headquarters in Barbados on June 15, 2017.
The agreement allows CDB to utilize expertise from UNDP in the execution of specific projects, which the Bank is funding, so that the most effective outcomes for the Bank's 19 Borrowing Member Countries are achieved.
Acting Vice-President (Operations) at CDB, Monica La Bennett, who signed on behalf of the Bank said the signing strengthened the ongoing spirit of collaboration between the two development partners.
"In this era when we are asked to do more with less, it's imperative that we collaborate. Partnerships allow us to leverage our scarce resources to achieve shared goals and objectives especially in the context of the sustainable development goals. CDB is committed to working to assist its Borrowing Member Countries to achieve the Sustainable Development Goals [SDGs] which they have identified as relevant to them and this will include collaborating with other development partners in this regard," La Bennett said.
Under the agreement, UNDP may be called upon to execute projects financed by CDB to reduce poverty and to gain access to energy, water and sanitation services and improvement of social infrastructure services, where external support is needed. There is also expected to be an exchange of knowledge and information relating to the achievement of the SDGs.
UNDP Resident Representative, Stephen O'Malley, who signed on behalf of UNDP, said the sharing of expertise will allow both organisations to better serve the people of the Caribbean.
"It's an honour for UNDP to be signing this agreement with CDB and the hope is that it will open avenues for a wide variety of work. It is in UNDP's interest to have a closer collaboration with CDB; we really look forward to sharing our expertise, benefiting from yours and entering into projects and programmes that benefit the Region," O'Malley said.