News
Project launches to boost agricultural development in rural Jamaica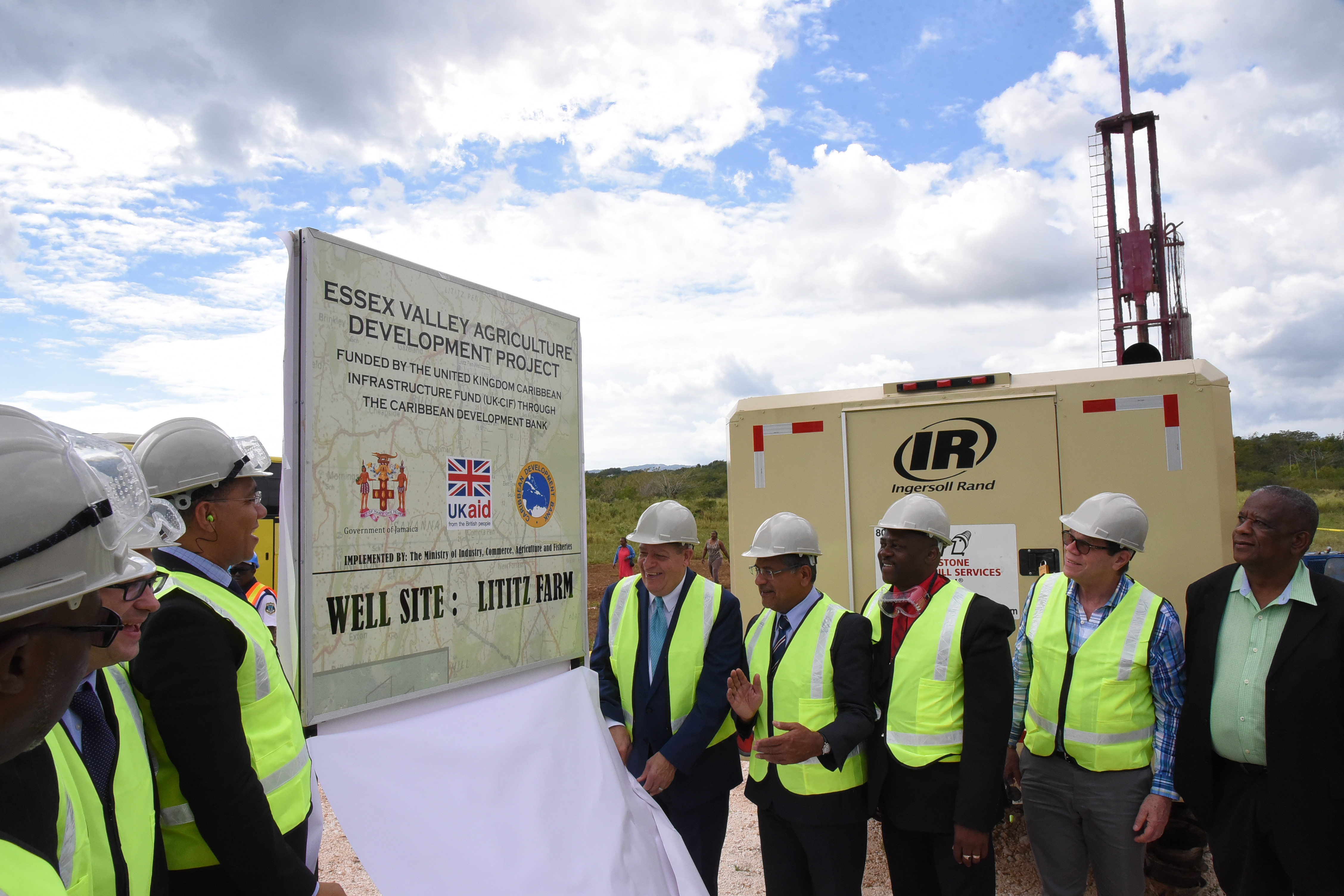 On January 16, the Prime Minister of Jamaica, The Most Honourable Andrew Holness, officially launched the Essex Valley Agriculture Development Project, which will provide reliable irrigation to 700 hectares of arable land in Essex Valley, St. Elizabeth.
This has been made possible through grant funding of £35.5 million (JMD5.75 billion) from the UK Department for International Development (DFID) under the UK Caribbean Infrastructure Fund announced in Jamaica in September 2015. The Fund is administered by the Caribbean Development Bank (CDB).
Speaking during the launch, the Prime Minister highlighted the potential of agriculture to support economic growth in Jamaica and urged the audience to see the prospects the sector holds for the country. "We should never limit agriculture, because the moment that we limit agriculture to being merely a manual and domestic endeavour, then we limit ourselves and the potential for growth. Make no mistake, agriculture is big business, and it should run the gamut," said Mr. Holness.
The Project will also provide packaging and processing infrastructure to assist farmers in marketing their produce, and ensure that it meets GlobalG.A.P. standards for export markets and domestic retailers. Farmers will be provided with training and assistance to improve resilience to the impacts of climate change, and to help them maximise their outputs and income.
The Project also includes development of 3.1 MW of solar energy to help offset the costs of pumping groundwater for irrigation.
"The Essex Valley Agriculture Development Project is another example of CDB's unwavering commitment and ongoing support for Jamaica. It is expected to significantly improve the social and economic prospects of Essex Valley and its neighbouring communities. In many ways, this Project represents a comprehensive approach to boosting economic and social development through agriculture," said Dr. Warren Smith, President, CDB, adding that it could serve as a model for other projects in Jamaica and across the Caribbean.
The launch was attended by the Minister of Agriculture, Industry, Investment, Commerce, and Fisheries, Hon. Audley Shaw; other Ministers of Government; British High Commissioner to Jamaica and The Bahamas, Asif Ahmad, and the Head of DFID Caribbean, Stefan Kossoff.
Kossoff said, "We are delighted to see this important transformational project underway. Agriculture is the backbone of Jamaica's economy. DFID and the UK Government are proud to be providing grant funding to modernise agricultural production and ensure that it meets the requirements of both Jamaica's domestic and export markets."